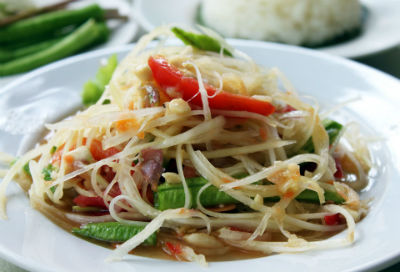 Ingredients:
Papaya – 1, medium, unripe, grated
Peanuts – 1 tblsp, roasted and skinned
Lime Juice – 1 tblsp
Dry Red Chillies – 5
Garlic Flakes – 5
Tomato – 1, large
Salt to taste
String Beans – 4
Cabbage – 1 tblsp, shredded
Method:
1. Coarsely powder the peanuts.
2. Grind the red chillies, garlic and tomato to a coarse paste.
3. Add the peanuts and lime juice to the spice paste.
4. Mix well.
5. Blend in the papaya.
6. Taste and add salt if required.
7. Top, tail and string the beans.
8. Slice them fine.
9. Steam the beans for about 5 minutes.
10. Toss the beans with the cabbage and mix them into the salad.
11. Place the salad in a fridge until ready to serve.
Note: image is for illustration purposes only and not that of the actual recipe.