A delicious homemade mango kulfi ice cream dessert.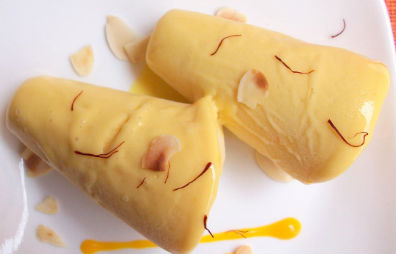 Ingredients:
Mango Pulp – 2 1/4 cups
Milk – 5 cups
Sugar – 3 tbsp
Saffron – a few strands
Cream – 3/4 cups
Method:
1. Boil milk in a heavy bottomed pan.
2. Lower heat and let it simmer.
3. Add sugar and cook till the milk is reduced to a third and is thick and creamy.
4. Add mango pulp and saffron.
5. Cook further for 2 minutes.
6. Cool to room temperature and mix in the cream.
7. Spoon the mixture into 6 to 8 moulds.
8. Cover tightly with foil and freeze for at least 6 hours.
9. Shake the mould thrice during the first hour of freezing.
10. Remove from refrigerator.
11. Dip the bottom of the moulds in hot water and invert onto serving dishes.
12. Serve immediately.