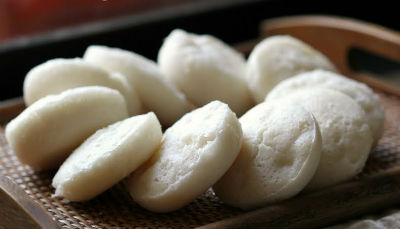 Ingredients:
Raw Parboiled Rice – 3/4 cup, washed, soaked overnight
Coconut – 1 1/2 tblsp, grated
Active Dry Yeast – 1/3 tsp
Sugar – 1 tblsp
Salt as per taste
Method:
1. Drain and grind the rice with grated coconut and a little water.
2. Mix 1/2 tsp sugar and 1/4 cup of warm water.
3. Sprinkle the yeast over it and mix well.
4. Keep aside for a few minutes till it frothes.
5. Mix the ground rice paste, sugar, salt and yeast mixture to make a thick batter.
6. Cover and keep aside to rise in a warm place for 4 to 5 hours or till batter doubles in volume.
7. Pour the batter into small greased steaming moulds and place them in a steamerr.
8. Steam for 10 to 15 minutes till fluffy but cooked through.
image credit: ruchikrandhap