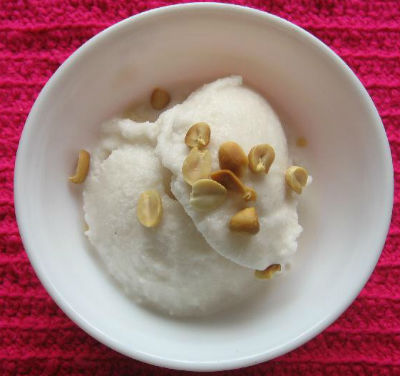 Ingredients:
Coconut Milk – 3 1/2 cups, unsweetened
Sugar – 1 cup
Salt – 1/2 tsp

Method:
1. Mix all the ingredients in a pan and place it over medium flame.
2. Cook till the sugar dissolves completely, stirring often.
3. Bring to a gentle boil and the mixture is smooth.
4. Transfer to a bowl and cool completely.
5. Cover and keep it in the freezer till frozen.
6. Remove the bowl atleast 2 to 3 times and give it a quick stir before freezing it again.
7. Serve, garnished with nuts of choice.
8. This stays good for up to 2 weeks if stored in an airtight container.
image credit: tesa at home