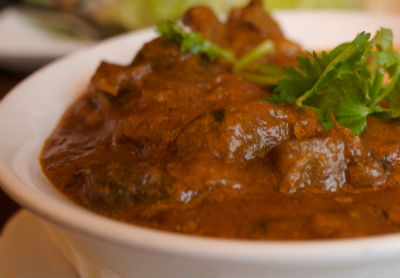 Boneless lamb cooked with tomatoes
Ingredients:
Lamb – 500 gms, boneless, cubed
Oil – 125 ml
Tomatoes – 500 gms, finely chopped
Green Chillies – 5 to 6, large, cut into 1/2 inch pieces
Water – 3 tblsp
Salt to taste
Method:
1. Heat oil in a pan over moderate flame.
2. Add the tomatoes and cook till oil separates.
3. Now add the lamb pieces and cook till tender.
4. Stir well and add a little water to prevent is from sticking to the pan.
5. Add salt and green chillies.
6. Cook till the lamb is dry.
7. Remove and serve hot.
Note: image is for illustration purposes only and not that of the actual recipe.