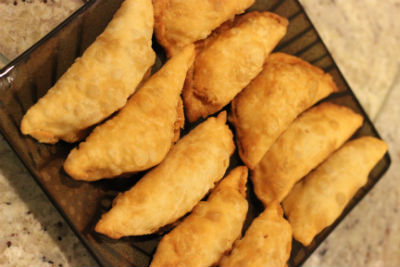 Ingredients:
For the Dough:
Refined flour – 4 cup
Ghee – 1/2 cup
Cold Water to mix
For the Filling:
Khoya – 200gms
Sugar – 1 cup
Green Cardamom – 1 tsp, powdered
Almonds – 1 tsp, finely chopped
Ghee for deep frying
Method:
1. To make the dough, mix ghee and flour in a bowl.
2. Add water and knead well to a stiff dough.
3. Keep aside for 60 minutes.
4. Saute the khoya till slightly fried and keep aside to cool.
5. Add sugar, cardamom and almonds to the cooled khoya and mix well.
6. Make balls of the dough and roll them into thick rounds.
7. Place a tsp of the filling and fold. Seal the edges with wet fingers.
8. Heat ghee in a pan over medium flame.
9. Fry the gunjiyas till golden brown on all sides.
10. Remove and serve.