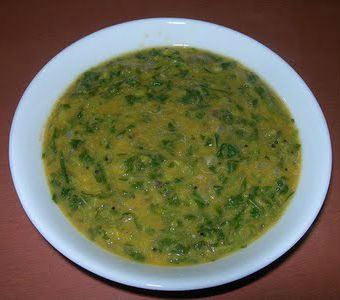 Ingredients:
Spinach – 3 cups, chopped
Moong Dal – 1/2 cup
Turmeric Powder – 1/2 tsp
Salt to taste
For Seasoning:
Oil – 2 tsp
Mustard – 1/2 tsp
Urad Dal – 1 tsp
Curry Leaf – 1 sprig
Grind to a paste:
Grated Coconut – 3 tblsp
Green Chillies – 3
Cumin Seeds – 1 tsp
Method:
1. Cook dal with turmeric powder and set aside.
2. Cook the spinach separately, adding salt.
3. Mix together cooked dal, spinach and ground masala, adding some water if too thick.
4. Season in oil the ingredients given and add to the kootu mix.
5. Serve with rice.
Subscribe to our Newsletter
Receive the latest recipes & kitchen tips !