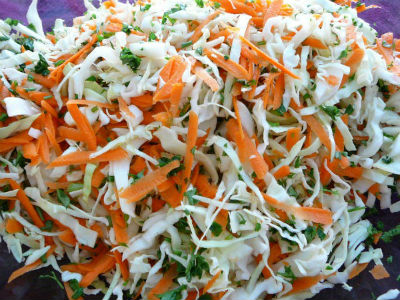 Ingredients:
Cabbage – 250 gms
Carrot – 1 medium sized
Onion –  1 medium sized
For Dressing:
Lime – 1
Mayonnaise – 1/2 cup
Thick Curd – 1/2 cup
Salt – 1/2 tsp
Black Pepper – 1/4 tsp, freshly ground
Method:
1. Remove the outer wilted leaves of the cabbage and discard.
2. Cut off and discard the hard stem of cabbage at the base.
3. Cut the cabbage into half and slice thinly.
4. Wash the cabbage and dry it with a clean kitchen towel.
5. Put the cabbage into a bowl.
6. Scrape the carrot, wash it and grate.
7. Add the grated carrot to the bowl containing the cabbage.
8. Peel the onion, wash it and slice it thinly. Add it to the bowl.
9. To make the dressing, squeeze out the juice from the lime and strain it into another bowl.
10. Mix the mayonnaise, curd, salt and pepper with the lime juice.
11. Pour the dressing over the vegetables and mix lightly with a fork till the vegetables are well coated with the dressing.
12. Place the bowl in the refrigerator till serving time.