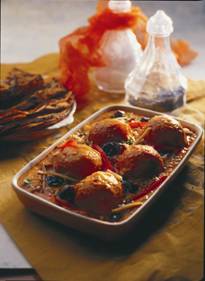 Ingredients:
Kofta
50 grams California Prunes
250 grams Paneer
100 grams Potatoes
20 grams Chopped Ginger
10 grams Chopped Green Chilly
2 grams Cardamom Powder
Salt according to taste
Corn Flour to bind
50 grams Khoya

Gravy
50 grams California Prunes
150 grams Refined Oil
10 grams Whole Garam Masala
250 grams Paste of Boiled Onion
30 grams Paste of Ginger & Garlic
10 grams Red Chilly Powder
10 grams Coriander Powder
Salt according to taste
200 grams Yogurt
30 grams Paste of Cashew Nuts
100 ml Cream
3 grams Cardamom Powder
Coriander for garnishing

Method:
Kofta
1. Grate the paneer and the potatoes.
2. Mix all the ingredients for kofta.
3. Make individual koftas and stuff them with chopped California Prunes and khoya.
4. Deep-fry them until golden brown.
Gravy
1. Heat the refined oil, add whole garam masala and sauté until it begins to crackle.
2. Add ginger & garlic paste and boiled onion paste and cook.
3. Add red chilly powder, coriander powder, turmeric and sauté.
4. Now add whisked yogurt and simmer till the fat separates.
5. Add cashew nut paste and bring to boil. Reduce heat and add cream and stir.
Serve California Prune Koftas covered with gravy.
Garnish with chopped coriander, julienned ginger and California Prunes.