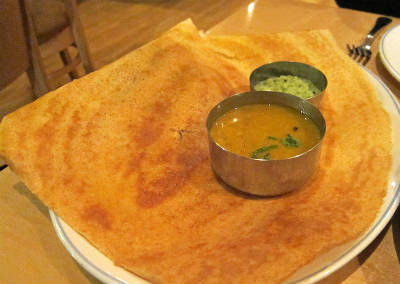 Ingredients:
Idli Batter – 250 gms
Paneer – 1/2 cup, crumbled
Onion – 1, small, finely chopped
Oil – 4 tsp
Coriander Leaves – handful, chopped
Green Chilli – 1, chopped
Grated Carrot – little
Method:
1. Heat little oil in a pan.
2. Add the carrot, onions and green chillies.
3. Saute for a minute.
4. Add salt and crumbled paneer.
5. Mix well and remove.
6. Heat a tawa over medium flame.
7. Pour a ladleful of the idli batter and spread well.
8. When one side is cooked, turn it over and add 1 tblsp of the paneer mixture.
9. Spread the mixture evenly and cook for 30 to 45 seconds or till done.
10. Garnish with coriander leaves.
11. Serve hot with chutney and sambar.
Version 2:
Ingredients:
Raw Rice – 1 cup
Boiled Rice – 1 cup
Paneer – 1 cup, grated
Green chillies – 2, chopped
Coriander leaves – 1 tsp, chopped
Water as required
Oil for roasting
Salt as per taste
Method:
1. Make a smooth batter of soaked and ground raw rice and boiled rice together.
2. Mix grated paneer, green chillies, chopped coriander leaves and salt to the batter.
3. Now pour a spoonful of batter onto the preheated tawa and evenly spread to a thin round.
4. Pour a tsp of oil or ghee all around it.
5. Serve hot with chutney or sambar
Tip: If you want to get a slight sour taste ferment the dosa batter for about 5 hours before mixing the paneer.
Image credit: www.flickr.com/photos/su-lin/6395421917/