This classic cocktail was invented in 1921 at the legendary Harry's Bar in Paris. There are numerous versions – some much hotter and spicier. Ingredients may include horseradish sauce in addition to, or instead of, Tabasco sauce.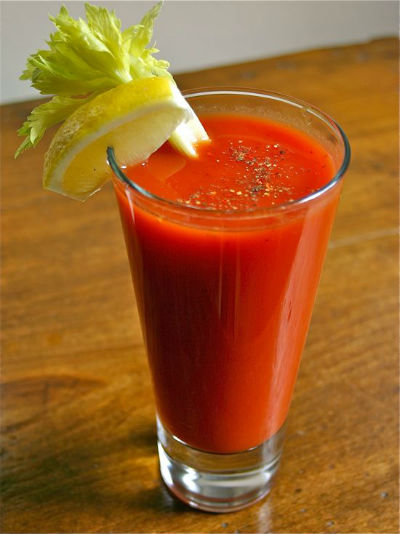 Ingredients:
Dash Worcestershire sauce
Dash Tabasco sauce
4-6 cracked ice cubes
2 measures vodka
Splash dry sherry
6 measures tomato juice
Juice of half a lemon
Pinch celery salt
Pinch cayenne pepper
Celery sticks with leaves,
Slice of lemon, to decorate.
Method:
1. Dash the Worcestershire sauce and Tabasco sauce over ice in a cocktail shaker and add the vodka, splash of dry sherry, tomato juice and lemon juice.
2. Shake vigorously until frosted.
3. Strain into a tall chilled glass, add a pinch of celery salt and a pinch of cayenne and decorate with a celery stick and a slice of lemon.