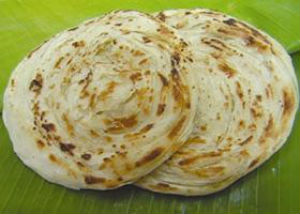 Ingredients:
Maida – 500 gms
Milk – 100 ml
CUrd – 50 ml
Salt – 1 tsp
Sugar – 1 tsp, powdered
Oil as required
Water as required
Method:
1. Combine the milk, curd, salt, sugar in a bowl and mix.
2. Add enough water and maida.
3. Knead well to a thick, pliable dough.
4. Keep aside for 1 1/2 to 2 hours.
5. Make small balls of the dough and roll them into a roti.
6. Fold the roti into a ball and roll them again. Repeat this 2 times.
7. Heat a tawa over medium flame.
8. Cook the prepared parathas, adding little oil around the edges, till light golden brown.
9. Remove and serve hot.
Tip: In some places, egg is also added to the dough. If desired, add 1 egg at step #1.