Simple, tasty and great way to get kids to eat fruits.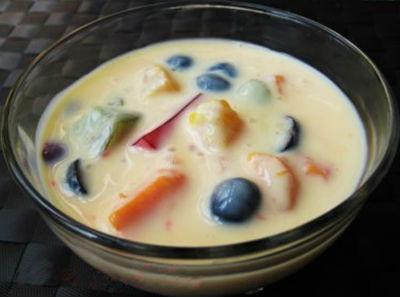 Ingredients:
Milk – 500 ml
CUstard Powder – 1 tblsp
Mixed Fruits – 1 cup
Sugar – 1/4 cup
Method:
1. Bring the milk to a boil over medium flame.
2. Add a little water (or milk) to custard powder and mix well.
3. Add this to the boiled milk and stir.
4. Add sugar and mix well.
5. When it starts to thicken, remove from flame and cool.
6. Add the fruits and keep it in the fridge for 1 or 2 hours.
7. Pour into individual serving cups.
8. Serve chilled.