In this competitive world, youngsters lead a very hectic life. They are always multi-tasking and challenging themselves; but one thing they terribly fail at is eating. In the midst of their hustle-bustle, they either skip meals or order from the nearest food joints.  After a busy day at work or a draining day studying, the last thing they can do is cook their food. Little do they think about the damage they are doing for themselves. But cooking isn't as strenuous as you think.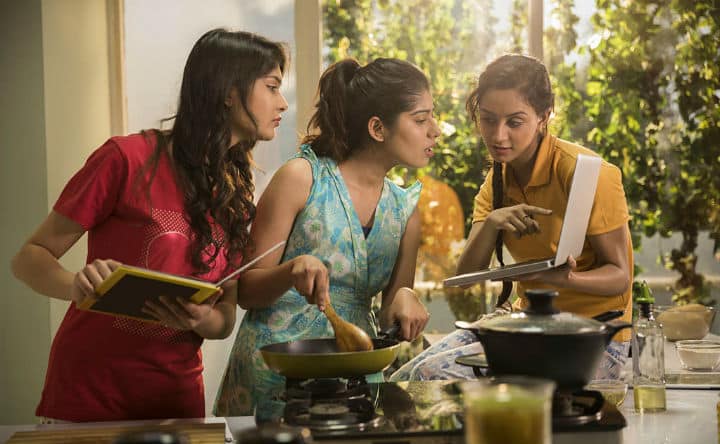 Here are some quick, easy and healthy recipes that can be made in a jiffy to satiate the hunger pangs of all the busy bees instantly.
Pancake is a quick fulfilling recipe that can be made with simple ingredients from the kitchen. All you have to do is get your batter right. The fun part is you can make your pancakes the way you want. You can choose the flour according to your preference and even toss in your favourite fruits. Stack in your hot spongy pancakes and top it with maple syrup or honey. It's an ideal breakfast recipe or can be a quick evening snack and is sure a healthy way to satisfy your sweet tooth.
This recipe keeps you full for a longer period of time. The veggies stuffed in between the bread are loaded with nutrition and the carbs in bread gives you the required energy. You can choose the type of bread you want and add veggies like cucumber, potatoes, carrots and beetroots. There is no one way to make your sandwich; you can add, eliminate or adjust the ingredients the way you want.  Sandwich with a sizzling hot cup of coffee or a tall glass of fresh juice makes the perfect breakfast combo.
If you are bored of the usual breakfast and want to try something different, healthy and that's light on your stomach, then remember to stock rice flakes. This recipe can be made in a couple of minutes by simply tempering the soaked rice flakes. However, you can add veggies and pulses and turn it into an exotic dish as well.
After being tortured by the greasy and spicy food from restaurants, your stomach will definitely thank you for treating it right.
Here comes the favourite dish of many. No matter how good a restaurant you get it from, homemade pastas are always the best as it isn't loaded with extremely large amounts of calories, fats and salt in a single serving. You can buy a large pack of pasta and its sauce or make a large batch of pasta sauce and store it in the refrigerator and use it whenever you are making pasta. This makes having a lip smacking dish even during your busy days possible.
This is the easiest way to have a hearty meal. If you have leftover rice and are clueless about what to do with it, then you can have a tangy bowl of lemon rice.  Making lemon rice is as simple as cooking rice, squeezing lemon and tempering it with spices. Afternoon lunch made in 10 minutes. Unbelievable isn't it? You can have it with fried papad or stir fried vegetables.
This one's for those who love a bit of spice and tanginess in their food. This can be made by sautéing tomatoes and tempering them with spices and cooking them in a cooker along with rice. You can also make them by stirring leftover rice in a sauce made of tomatoes coated with Indian spices. You can simply down a hot bowl of tomato rice without any accompaniment.
Pongal is an easy and healthy one pot dish made of rice and yellow lentils. It is very filling and rich in protein that keeps you full longer. It is a wholesome breakfast and is very soothing for your stomach. It can be had plain or with a tangy bowl of sambar, chutney.
This is a thick porridge made of roasted semolina and vegetables. The presence of vegetables in great proportion makes it a nutritious breakfast or dinner. You can also garnish it with groundnuts or cashew nuts that give an added crunch with every bite. Khichidi can be customised according to your preference. It goes well with sambar, chutney, sugar or tastes best without anything else.
Remember you can enjoy the little things in life only when you have a healthy body; which can be achieved only when you eat right. So quit eating outside and have fun cooking these recipes when your hunger strikes.