Arabica & Robusta – the names that can cause havoc in a many people's life when they go missing. Well, they sometimes not just impact an individual, but also can cause serious concerns in an entire community or state, when people start mal-functioning without them.
This is not some tech magic, I'm talking about. As some of you have guessed already, I'm referring to the 2 simple varieties of Coffee seeds. Yup! Now we can agree, one can't go without a cuppa. Whilst coffee seeds may be just 2 in number, they have definitely taken the business and coffee lovers' world by storm – the flavours, varieties and blends going just beyond ordinary imagination.
India is not so different. Ok – let me rephrase it – South India is not so different. In many households, the first task of a Mami's early morning routine would be a davra/ tumbler of strong Filter Kaapi with a copy of "The Hindu" for the Mama. Apparom thaan (After that), the brain begins to start turning its gears. For generations, filter kaapi has glued itself to the pedestal of "The Ultimate Coffee" that no matter how much Instant Coffee spend on ads, they can don't even get to dust the dirt at the pedestal. In fact, I do know, if I were to visit my friend's place & there wasn't any decoction in the filter, they would nearly whisper with regret tinged tones – Innikki verum Instant coffee thaan, ok va (today it's only instant coffee, are you ok with it)?
When I was a kid, we would buy our coffee mix [P-Berry + A: my mom's code word] only from a specific shop – freshly roasted and ground, with a hint of chicory. Years down the lane, nothing much has changed in the world of filter coffees, until we had the first Café hit town. That's when the world of coffee began to change. Younger generations were open to experimenting with new flavours, toppings and what not in their coffees. That's when excitedly, we began to open our eyes (& taste buds) to the global world of coffee. We realised that my typical davra coffee (in my case P Berry + A Blend) is just one of the many varieties of coffees that I can buy – made from beans, can involve some flavours and can have blends that can subtly change depending on where the coffee is grown.
With cafés like Coffee Day, Barista and Starbucks now quite common in all cities, the door to the coffee world has just blown apart. Coffee is not just a South Indian tradition now, even the North has quickly soaked up the flavours and many of our tea drinkers are converting to this cuppa every single day.
In terms of global Coffee powder brands in supermarkets, it's only been the instant coffee, Nescafe. We now have a new entrant to the Indian market, LAVAZZA, the iconic Italian coffee maker, looking to capture its share with Fresh Filter coffee, specially designed for the Indian palette, with beans from our own Chikmangloor and Coorg.
Their new coffee is called: Il Mattino Vivace meaning "Lively Morning". So, having been a traditional filter coffee drinker, it intrigued me to try this one out. I should say, the packaging is quite good. So, how different is this one: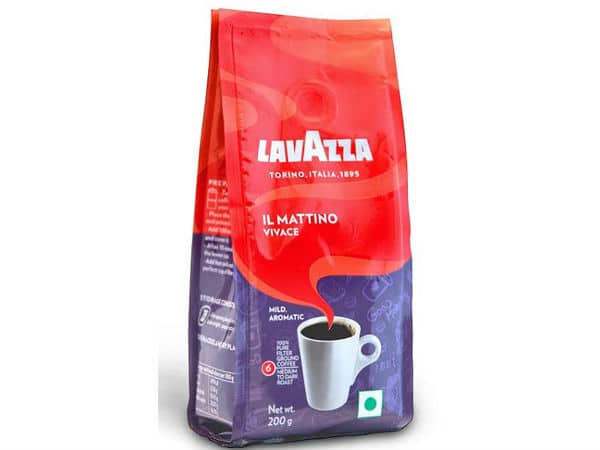 It's mildly aromatic.
Has a medium to dark roast with a level 6 intensity, that is close to caramel than the dark brown I'm used to [Guess our traditional ones will definitely hit a 10 on the intensity scale].
Medium strength decoction.
Best for black coffees, or cappuccinos (if using milk).
Excellent packaging that is designed to trap the aroma in.
Priced at 150/- for 200g.
If you love coffee and are open to expand your horizons, this is for you. Just try it out. If you are a devout Filter kaapi in a davra drinker, I would still recommend you to try it out (at your own risk).