Breakfast is the most essential meal of the day. However, how many of us ensure that we have the right amount of nutrition intake to begin our day? For many, the day starts quite early and along with it also the struggle for time to finish chores, manage the house, children and work. With such hectic schedules, a good home cooked breakfast often takes a back seat.
While home cooked, traditional foods are usually the best, a sprint style workday doesn't always provide us with enough time. That's when less processed foods like oats, containing high fibre, is a good source to go to. A western influence, Oats has been adopted well by us over the past decade or so, getting incorporated into our diet in a plethora of recipes – substitute for rice in the south, a sub-ingredient for upma, poha, idli, dosa, energy bars, etc.
Quaker, from PepsiCo, has launched three products that promise a complete wholesome morning meal. With a combination of ready-to-eat oats combined with traditional breakfast recipes, a juice blend of fruits and vegetables and an oats milkshake, Quaker is out to ensure that Indians get a healthy, protein and fibre-rich start of the day. Here is my take on the products in the breakfast range.
Quaker Oats – Nutri Range: With this range, Quaker had tried to adapt and incorporate its oats into a traditional Indian breakfast. With the Indian palette, being more on the savoury side, this range is a lot more promising than Masala Oats (a flavour that I can barely care for and reminded me of the instant noodles masala taste).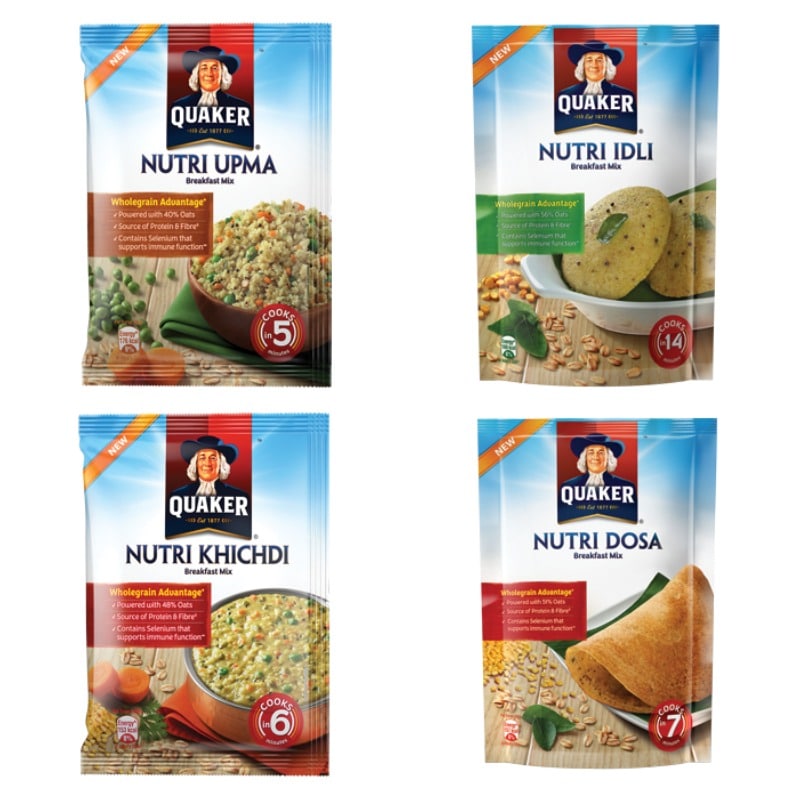 Nutri Dosa, Nutri Idli, Nutri Khichidi, Nutri Upma: Incorporating Oats in Dosa, Idli, Upma and Khichidi is a great idea, something that households have been doing for quite a while now. However, Quaker has ensured a precise quantity of water and cooking time for the recipe to ensure great taste and superb Dosas and Idli. Each of these products are enhanced with 40-50% of Oats nutrition. A great choice for consumers to pick in the ready-to-eat category, without feeling guilty about additional preservatives, additives or reduced nutrient value. Each of these dishes take just about 10 minutes on the stove top and 4-5 min in a microwave to be ready.
My personal take: The oats Idli, Dosa and Khichidi turned out well in terms of a good balance between taste and other traditional ingredients of the food. I did not find the taste of Oats overpowering. However, for the Upma, I wasn't very happy. On tasting, I felt that the rava/ semolina (one of the major ingredients), wasn't roasted enough – had a lumpy, clay like texture which is the result of un-roasted rava.
Oats + Milk: This is a Brand-New dairy beverage introduced by Quaker a few days ago. With patented "SoluOats" (making oats soluble without residue), the drink ensures that it doesn't have the residue of oats in the drink and is a homogenous blend that retains the nutritive value of oats. This milk shake comes in two flavours – almond and mango – and is an attempt to combine Cereal and Dairy and is India's one-of-a-kind Grain + Dairy beverage.
The beverage is targeted towards millennials and the younger generation who make conscious decisions regarding their food and healthy. The best part of this drink is that it contains at least 50% less refined sugar than other flavoured milkshakes sold in the market. This in turn reduces un-necessary calorie accumulation along with the goodness of oats. While oats is one of the ingredients, the taste if a beautiful blend of almond/mango, milk, oats and sugar.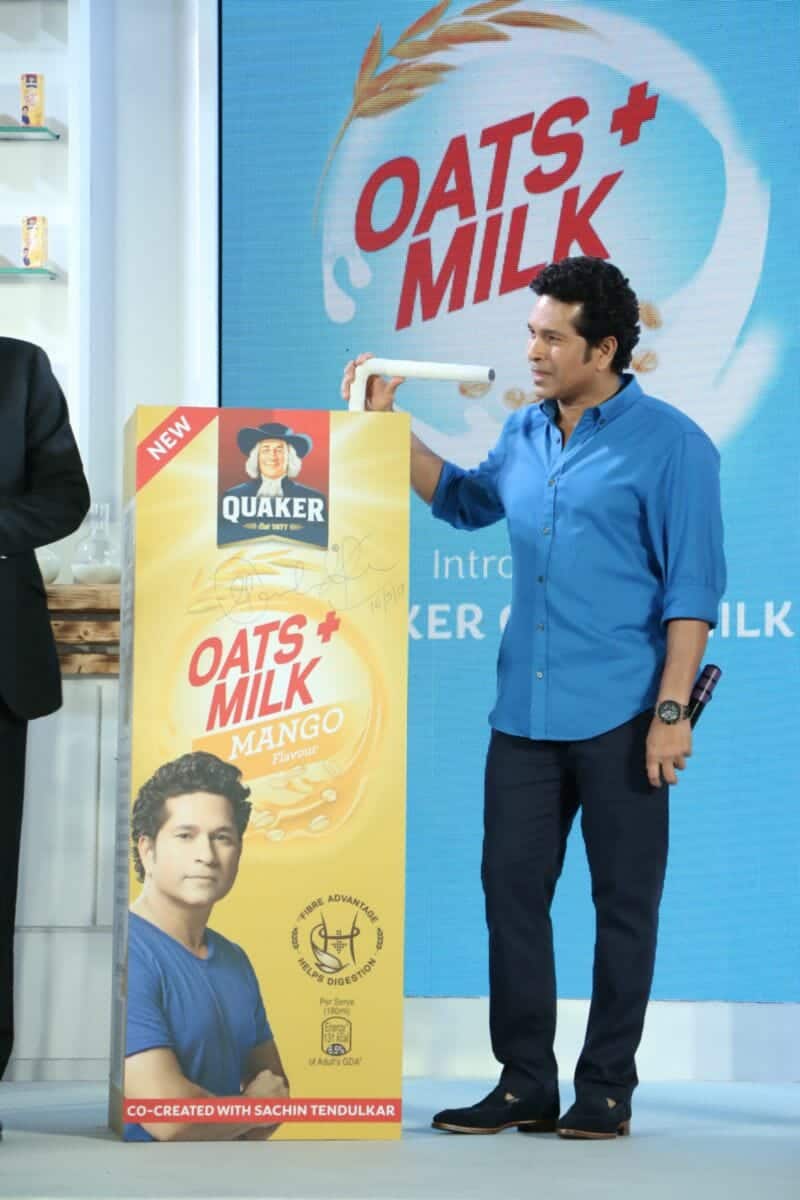 My personal take: A good, nutritious drink on-the-go, for the mid meal snack, post breakfast drink and small hunger pangs.
Tropicana Essentials:
A healthy diet consists of five servings of fruits and vegetables, as per the Global Standards. India sadly stands only at 2.9. Tropicana Essentials is out to set this right. In this category, it has introduced a juice that is a combination of fruits and vegetables. Each pack (200 ml) of the juice contains nutrients upto 2 servings of actual fruits and vegetables.
With 0% artificial sugar, this is one healthy drink to fall back on.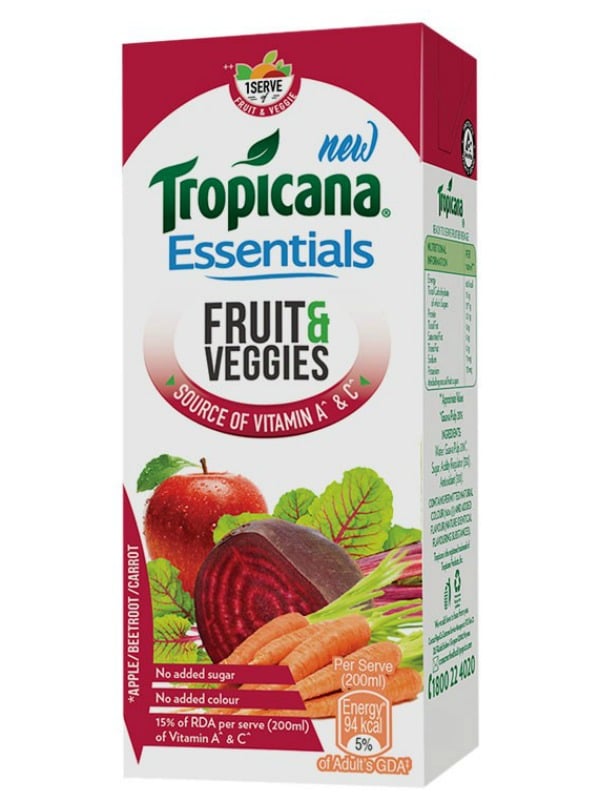 My personal take: A great drink with the added benefit of just pure juice and no additional sugar. A good choice for a mid-meal snack and breakfast complement.
Having a handy stash of the juice and milkshake definitely goes a long way in ensuring reduced junk food consumption and emotional food decisions.
Overall, products like these is definitely a boon for us. I would never give up my traditional food cooked at home and would choose Oats as an occasional meal to get that much needed break from the routine. When they both come together, it is a great way for me to ensure regular breakfast meals for my family and me.
Personal Note:
I would like to add that while the name PepsiCo conjured up images of Pepsi (and other aerated drinks), Lay's chips and Kurkure (foods that I usually stay away from), I was extremely surprised to know that Quaker was also owned by Pepsi. To me, it looked like the company wanted to start paying attention and make major in-roads in the health food segment and hence were trying their best to create products that are definitely healthy, made with the right intention and also, customized to suit the Indian palette.