One of the benefits of being in the food industry is that, one gets many opportunities to taste and experience creativity in food.
Recently, we went to judge a food contest hosted and organized by ITC. The company, under its brand ITC Master Chef has newly released four new flavours purely from the Tamil Cuisine. While the opportunity to taste wasn't something new, the experience as a judge was definitely not something I had done before. It was time to put a few things I learnt from George (Columbaris), Matt (Preston) and Gary (Mehigan) to some practical application! [Those ardent followers and fans of Master Chef Australia would know what I'm talking about!!]
The competition was quite simple – participants had to prepare a dish that used any one of the four masalas of ITC Master Chef, which were:
Chettinad Chicken Masala
Madurai Kulambu Milakai Masala
Thanjavur Sambar Masala
Madras Milagu Rasam Powder
As the clock chimed six, the long-awaited participants finally came alive. The EmCee was ready, judges and their table were ready, cameras were rolling …. AAAANND….. Action! The eleven beautiful women just jumped into action; special mention to a junior master chef, who while speaking with traces of her baby tongue, was tinkering with the pots, plates & pans like a pro! Exactly copying her mom, who was busy making some yummy Besan patties in which she had used the Kulambu Milakai Powder – they were so yummy and reminded me of the Gujarati Ganthias! The other dish she had made was the Sambhar Fried Rice – name sounds weird, right? However, the idea was brilliant! Throw in a fried rice & some sambhar powder and you get a wonderfully tasting Sambhar Fried Rice. A quick dish to appease the whimsical fancies of the "tough to please" audience at home – KIDS!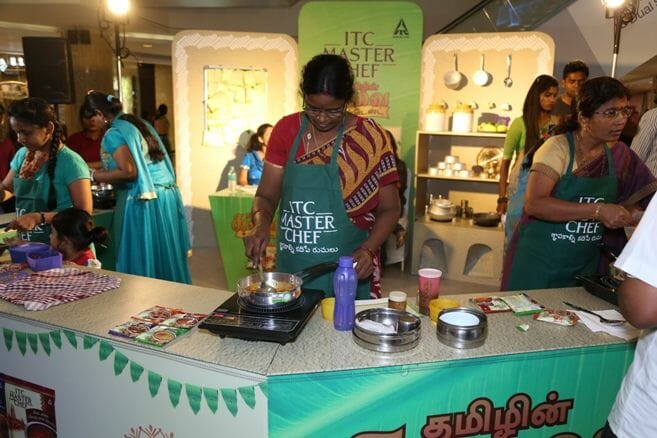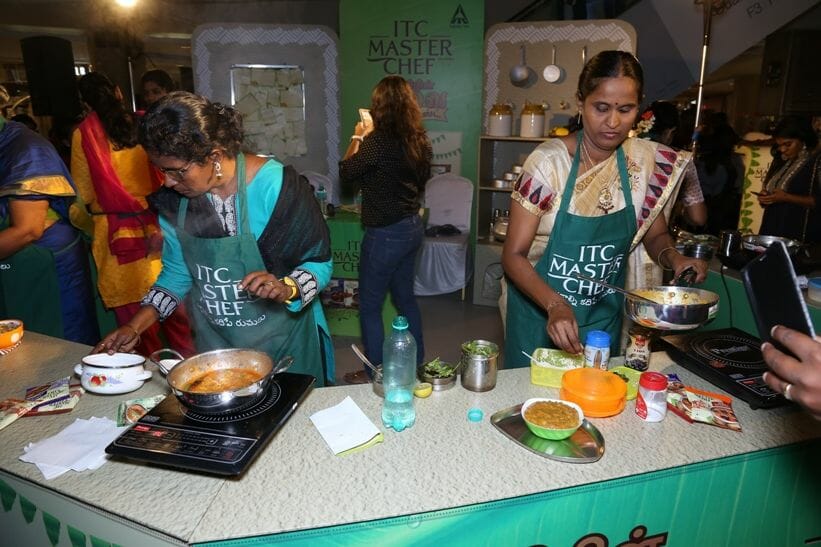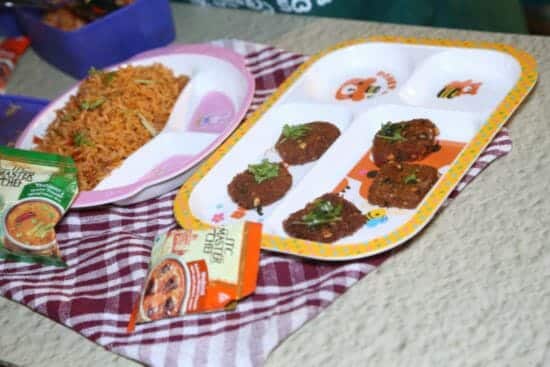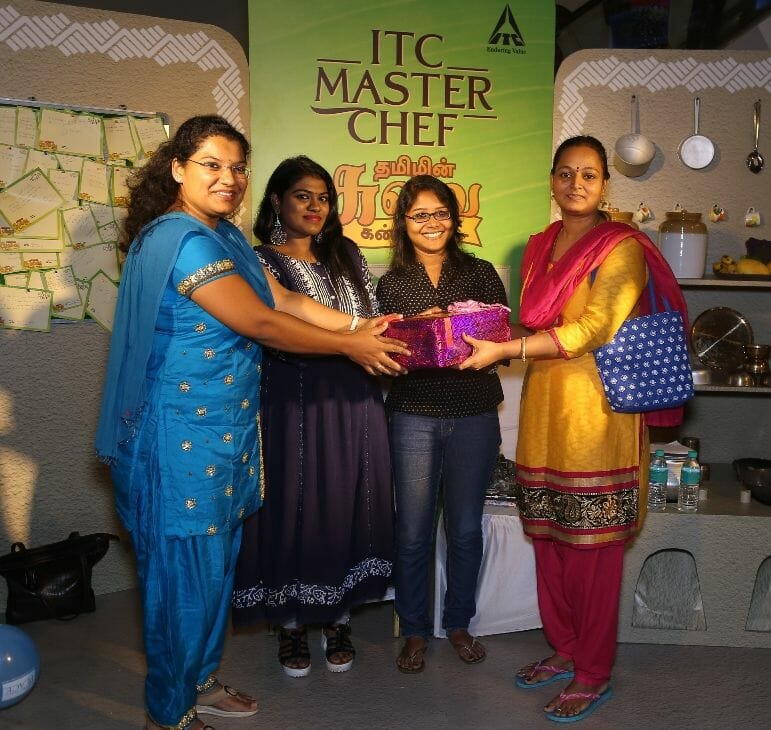 Millets are the "In-Thing" today. Many of us are going back to our roots and traditions to find out what our ancestors ate that kept them healthy, millets being one of them. A Mom-in-Law & Daughter-in-Law duo (this relation we came to know as an after fact) dug up a few traditions and put together something contemporary – Varagu Arisi Fried Idli and Varagu Arisi, Sweet Potato Cutlet. The elderly contestant was more than happy to talk us through the nutritive qualities of her dish and at the same time, making sure we also tasted her veggies generously: "Neenga ellam ithu kandippa saapadanum, romba nallathu" [you youngsters need to eat this; it is very healthy].
Most of the participants had either used the Kulambu, Sambhar or Rasam powder; there was one person who had used the Chicken Masala. However, the twist was that she had used it in a vegetarian dish. The dish was made with Brinjal and she called it the Brinjal Curry. She had just added hints of the masala that just lifted up the Brinjal curry's taste to the extent where one of the other judges just wiped her cup clean. . I'm very apprehensive when it comes to strong masalas like the Chicken or Garam Masalas. The best food is when one is able to balance all the spices and at the same time retain the taste of the main ingredient. This was something that Meera (the participant) was able to do.
Lastly, I should mention another innovative dish made by one of the participant. This dish from Andhra was called "Mixed Vegetable Chutney" – which is similar to the Thokku that we make in Tamil cuisine. This chutney was a mixer of multiple vegetables, with a good balance of tanginess and spice.
It was quite a good experience for a first time judge like me. An opportunity to connect with people across various regions and getting to know some really interesting dishes was a great way to end my weekend.
ITC has a plethora of Masala Blends. If you want to try some South Indian masala blends, do check them out at your nearest store on order them online at Big Basket/ Amazon.