The countdown to the New Year has begun and we are sure 2 things are on top of your mind – the New Year party and New Year resolutions. Speaking of the party, if you are the host this time or even going to a friend's/family member's place for a potluck dinner, getting the menu right is of prime importance. After all, no one wants to begin a New Year with food that's unappetizing or simply boring!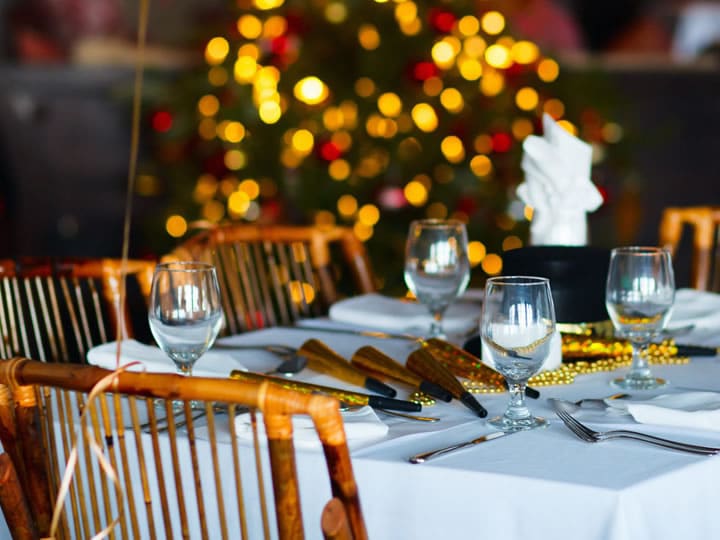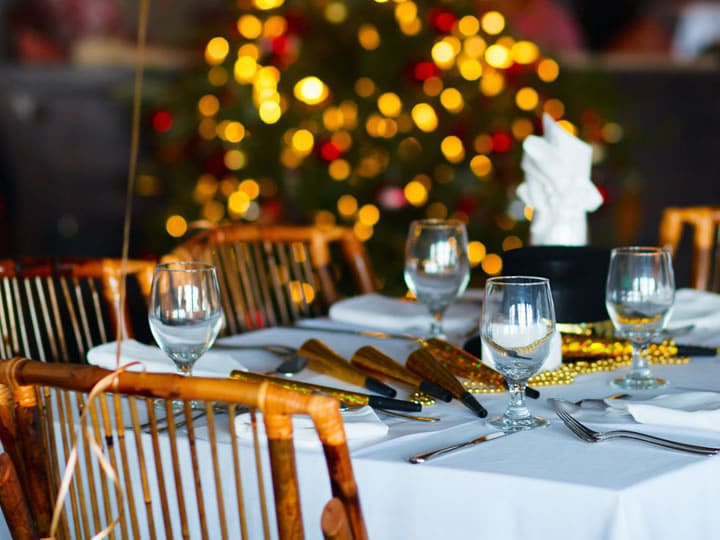 We've got you our pick for Top 10 New Year party recipes – divided into Drinks, Appetizers, Main Course, and Dessert. These recipes are different, fuss-free, and finger-licking good – sure to make you the star of the party! Here goes:
DRINKS
#1 Cinnamon Flavoured Orange Iced Tea
Nothing can beat the citrus taste of this recipe coupled with the spicy flavour of cinnamon.
Ingredients:
2 tsp tea leaf / 2 tea bags,
2 oranges,
star anise 2 pcs,
1 cinnamon stick,
2 tbsp sugar (adjust to higher or lower quantity depending on personal taste),
2 cups of water,
To garnish:
lemon slices and fresh mint sprigs
Preparation:
Squeeze fresh orange juice in a bowl and set aside until required.
Boil water in a pan and add the tea leaves, orange peel, sugar, cinnamon, star anise to it. Let the concoction simmer for few minutes over medium heat. Thereafter, remove, strain, and allow it to cool.
Add the orange juice to the cooled concoction and stir. Refrigerate for a couple of hours.
Before serving, add crushed ice to glasses, pour the tea, and garnish with lemon slices and fresh mint sprigs.
Tip: Add some dark rum to this recipe to give it a spin into a warm cocktail!
#2 Champagne Margaritas
How can a party ever be complete without some champagne? By the way, this margarita can also be made by adding any other favourite alcohol of your choice.
Ingredients:
1/2 c. fresh lime juice,
1 c. tequila,
1/2 c. orange liquer,
3 cups champagne,
lime wedges and salt for rim
Preparation:
All you gotta do is combine all the ingredients together in a large pitcher, give it a mix, and run lime wedges dipped in salt around the rim of each champagne glass. Thereafter, just pour the drink into glasses and drink up! Garnish with lime wedges and crushed ice for extra pizzazz.
#3 Apple and Ginger Cocktail
The crunchiness of Apple combined with the earthy appeal of ginger is what this one a bold cocktail – perfect for the New Year party.
Ingredients:
2 ounces green apple vodka,
1 ounce apple cider,
1 ounce orange liqueur,
2 tsp sugar,
2 tsp ginger juice,
To garnish:
mint leaves, apple slices, crushed ice
Preparation
In the cocktail shaker, pour vodka, orange liqueur, lemon juice and apple cider. Add the sugar, ginger juice, crushed mint leaves and ice too.
Cover well and shake vigorously until mixed well.
Strain the concoction into martini glasses, garnish with apple slices and serve chilled.
Tip: You can omit the vodka if you want to make a mocktail instead.
APPETIZERS
#4 Fish Fry
Fried fish makes for an interesting appetizer at any party. Make thin slices of cod or haddock fish fillets and marinate with lemon juice, ginger-garlic-onion paste, salt and pepper. Dip the marinated pieces in egg and dip them in golden breadcrumbs. Fry them hot when guests are home and ready to eat.
Get full recipe here
#5 Sichuan Chilli Potato Recipe
This sweet, tangy, fuss-free potato recipe will turn out to be the star appetizer at your party!
Ingredients:
3 boiled and peeled potatoes,
2 spring onions,
2 cloves chopped garlic,
a small piece of chopped ginger,
1 green chilli,
1 teaspoon each of Sichuan Sauce and Sweet and Spicy Chilli Sauce,
2 tbsp sesame/til seeds,
4 tbsp sesame/vegetable oil,
salt to taste
Preparation
Heat oil in a heavy bottomed pan; add sesame seeds, ginger, green chillies, garlic. Sauté for a few seconds and add the potatoes.
When potatoes turn lightly crispy and browned, add the Sichuan sauce, sweet chilli sauce and sauté for 2 minutes on high flame, taking care not to break/mash the potatoes.
Transfer the dish to a serving platter and garnish with spring onions. Don't forget to add the toothpicks!
#6 Chicken Skewers
This recipe needs a longer preparation time, but we can tell you that it's totally worth it! Marinate chicken pieces with curd, tandoori masala and ginger garlic paste. Put in the oven for a few minutes and serve on the platter with pudina chutney.
Get full recipe here 
MAIN COURSE
#7 Kashmiri Pulao Recipe
What better way to end a year and start a new one than with the taste of royalty on your plate!
Ingredients:
3 cups long grain basmati rice (soaked for 30-45 minutes),
1/2 tsp Kashmiri red chilli powder,
1-1/2 teaspoon Fennel seeds (Saunf),
1/2 cup mixed nuts (including cashews, almonds, walnuts, raisins, pistachios),
2-1/2 cup milk,
3 cups water,
3 tbsp Ghee,
3/4 teaspoon Dry ginger powder,
green chillies,
salt to taste,
few saffron strands soaked in warm milk,
1/4 cup caramelized onions,
1/4 cup apples and pineapple each (thinly diced),
whole spices comprising Shahi jeera, Cinnamon, Black cardamom, green cardamom, cloves, and bay leaves
Preparation
In a heavy bottom pan, heat 2 tbsp of ghee and add the whole spices. Once roasted, add cashews and fry for another minute until the cashews are roasted golden.
Add sliced ginger/ ginger powder, fennel powder, Kashmiri chili powder, salt and the soaked rice and fry for few seconds. Add milk, saffron milk, water and bring the pulao to a boil. Then lower the flame and cover the pan and allow the rice to cook.
Meanwhile, heat another tablespoon of oil in the pan and roast the other nuts until light golden brown. Take it off the heat and keep aside.
To the cooked rice, add roasted nuts and transfer the pulao to a serving platter. Before serving, garnish it with fried onions and diced fresh fruits.
#8 Dahi Aloo / Potato Yogurt Curry Recipe
This quintessentially Punjabi dish is sure to add an unforgettable flavour to your New Year party menu.
Ingredients:
4 potatoes,
1 onion,
1.5 cups yogurt,
2 tbsp gram flour (besan),
cumin seeds,
curry leaves,
1/2 tsp ginger and garlic each,
red chilli powder,
coriander powder,
turmeric powder,
4 tbsp oil,
2 green chillies,
salt to taste
Preparation
Pressure cook the potaoes, peel, and dice.
In a large bowl, add curd and besan with a little water and beat them together to make a smooth batter.
In a heavy bottom pan, heat oil. Add cumin seeds, hing, and finely chopped onion and saute.
Then add the finely chopped ginger, garlic and green chilies along with the curry leaves and toss them all together for a couple of minutes.
Add the powdered spices and saute the masala well until it is cooked and begins to release oil from the sides.
Add the potatoes to the masala and mix to coat them well.
Lower the flame and slowly pour the beaten curd and besan mixture over the potatoes. Mix well. Adjust salt as per your taste and close the lid to allow the curry to simmer for 5 minutes.
Garnish with chopped coriander leaves and serve.
DESSERT
#9 YUMMY LIME PIE
Ingredients
1 tin of sweetened condensed milk, Yolks of 4 eggs
Half a cup of lime juice
A few drops of food color
One Graham cracker crust
Preparation:
Beat together the egg yolks and the food colour, and mix it with the condensed milk. Add lime juice, and mix well.
Now, pour the mixture into Graham cracker crust. Set at 325 degree and bake for 18 minutes.
Freeze it for about 15 minutes and then serve.
#10 CHOCOLATE TOFFEE GRAHAM TREATS
Ingredients
Honey gram crackers – 11 no's (break them into squares)
One cup of sugar
One cup of butter
Two cups of semi sweet chocolate chips
Half a cup of finely sliced pecans
Preparation:
Preheat the oven to 350F.
Take a baking sheet and put the cracker squares in such a way that they form a layer.
Mix sugar and butter in a pan and let it melt and boil for two minutes.
Put off the fire and add the pecans.
Now, put this mixture over the crackers layer such that all the crackers are completely covered.
Bake for ten minutes.
Take it out of the oven and evenly spread its top with chocolate chips. When the chocolate chips melt, level it flat to cover the top.
Cool and remove the squares to a cookie sheet lined with wax paper.
Put them in the refrigerator till they harden.