Recently, I was requested to review the Maharaja Whiteline EasyLock King Mixer Grinder. As is my usual approach, I started researching the brand and its products to get a general understanding of the customer's reviews. They were mixed – a lot of good reviews, but at the same time, a lot of unhappy customers as well. I was very curious to know how this product would turn out to be.
When the product arrived, I was quite surprised by its light weight. My previous experiences being with age-old Sumeet and Preethi, this seemed quite light comparatively. This is a 4-Jar mixer and black in colour – which was a blessing for a change. Black looks so royal and premium.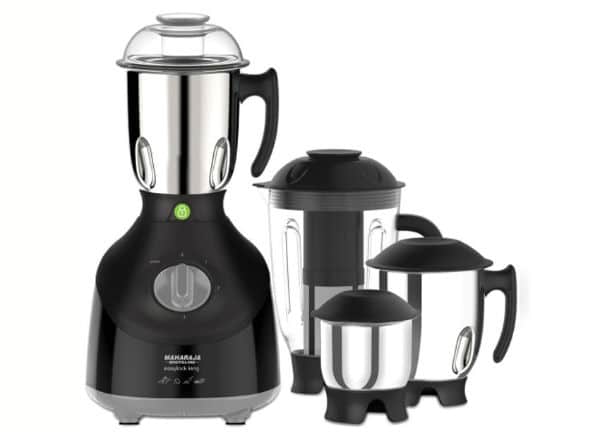 Colour – Premium Black and Silver. Well, it lives up to its name! Black definitely is Royal and the mixer has a premium look and finish. For once it was a huge change from the usual white coloured mixers that throng the market.
Style – A huge THUMBS UP! Maharaja has travelled a long way and is working towards connecting its brand with the urban market. It definitely looks sleek with its contoured base and matte finished black lids. The jars, base and the knob on the base are all stylishly designed – bound to attract the eye and guarantee a second look.
Jars – The Easy Lock King comes with 4 Jars: Chutney (0.5L); Grinding Jar (1.25L), Liquidizing Jar (1.75L), Juicer/ Blending Jar with filter (1.75L). All jars are made from Stainless Steel. The quality of the steel looks premium and is certain to have high endurance in today's kitchen. The handles are ergonomically designed and are a perfect fit in one's grip. I was pleasantly surprised to see that the juicer jar was made of SS as well, unlike a lot of other similar products out there. Heavy Duty and Endurance in the kitchen was all that I could think of.
Innovative Feature – The one thing that sets this product aside from the rest of the similar products in the market is the "Visible Lock Feature". The mixer has a visible lock feature with a small icon at the place of locking that helps you identify if the jar is locked to the base or not.
Safety – Safety is one of my primary concerns in the kitchen especially with kids running around in the house. The Mixie tends to arouse a huge amount of curiosity and "me too" with my kid, who thinks the knobs are a play thing! The Easy Lock King has taken care of this aspect. The mixer turns on ONLY when the jar is fully locked onto the base. Even when the jar is not on the base, but the power is on, the knob will not turn on the motor! This is definitely a HUGE PLUS from a safety perspective.
Powerful Performance – The mixer comes with a 750 Watt motor that is guaranteed to give a powerful output. Solid foods are guaranteed to be turned to smithereens once the motor is turned on. The motor comes with a company warranty of 5 years.
Pricing – The Easy Lock King model is being sold across online retailers like Amazon and Snap Deal between ₹4,500 – ₹6000. The pricing is competitive and is in a similar range of other players like Preethi or Bajaj.
Overall Review – Overall, with a combination of good looks, stylish design and powerful performance, I would give this product a 4-Star Rating.
About the brand – Maharaja Whiteline has been a brand associated with the Indian Middle class for almost 30 years. Recently, it was acquired by a French company that owns multiple leading brands in the kitchen appliance segment across the globe. While still operating in its own indigenous plants, it is quite pleasant to see the brand being revived in terms of quality and performance and getting set to compete with other world class products in the same segment. While the initial look and trial of the product looks very promising, its strength will be determined only upon continued delivery of exceptional service.
Product Specifications:
Power
750 Watt
Number of Jars
4
Jar Capacity
1.75L PC Blending Jar with Fruit Filter
1.75 SS Liquidising Jar
1.25L SS Grinding Jar
0.5L SS Chutney Jar
Product Warranty
2 Years
Motor Warranty
5 Years
Voltage
230V
Frequency
50Hz
Subscribe to our Newsletter
Receive the latest recipes & kitchen tips !