A spicy, tangy and delicious chicken burger for lunch or dinner or just about whever you feel like.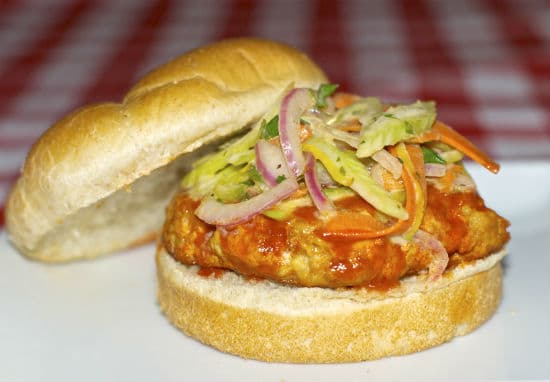 Ingredients:
Chicken Thighs – 150 gms, boneless, skinless
Maida – 3 tsp
Egg – 1, beaten lightly
Breadcrumbs – 1/3 cup
Chilli Sauce – 1 1/2 tblsp
Butter – 3 tsp, unsalted, melted
Celery – 1/3 cup, sliced
Carrots – 1/3 cup, sliced
Red Onions – 2 tblsp, sliced
Blue Cheese – 2 tblsp, crumbled
Sour Cream – 3 tsp
Burger Buns – 2
Salt as per taste
Black Pepper Powder – a pinch
Oil – 3 tsp
Method:
1. Cut the chicken thigh into two equal portions of 75 gms each.
2. Sprinkle salt and pepper powder. Keep aside for 15 to 20 minutes.
3. Place the flour, beaten egg and breadcrumbs in three separate bowls.
4. Dredge the chicken thighs in flour, then in egg and then in the breadcrumbs.
5. Shake off any excess.
6. Heat oil in a nonstick frying pan over medium flame.
7. Cook the chicken thighs, turning once or twice, until golden brown or for 3 to 5 minutes each side.
8. Remove and drain excess oil.
9. Mix the butter and chilli sauce in a bowl.
10. Add the fried chicken thighs, mix gently and keep aside.
11. Mix the carrots, red onions, cheese, sour cream and celery in a bowl.
12. Sprinkle salt and pepper powder.
13. Halve the buns and toast them lightly.
14. Place one chicken thigh on each and top with the celery-carrot mixture.
15. Serve at once.