It's something Italians pride themselves on and the world loves to swoon over and that is – Italian food. There's nothing more romantic than a meal you create for a special someone and foodies across the world would unanimously agree that the way to a lover's heart is through a fine Italian meal. Nothing beats a bowl of pasta topped with your favourite sauce, a perfectly crusted pizza or a delectable tiramisu. Whether the secret is the freshness of ingredients, the sequence of flavours, or the Italian wine that accompanies meals, Italian food has garnered a place of pride in world cuisine.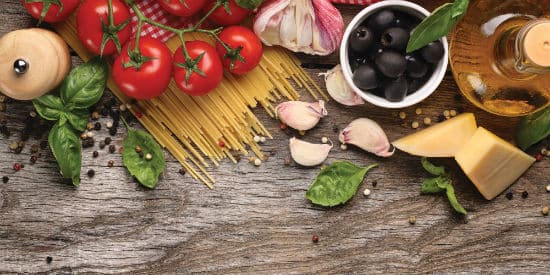 Food is integral to Italian culture and Italians are proud of their food and wine heritage – chat up one and he is sure to tell you their family way of cooking a special dish, how they pair it, and enjoy it together. Enjoying Italian cuisine is more about the experience, the emotion it evokes, and less about the intellectual facts and that's probably one of the reasons it appears so romantic. Olive oil, balsamic vinegar, and green leafy vegetables are staples Italian ingredients with garlic, onion, and tomatoes being important too. Italian food has evolved tremendously since the Italians immigrants first discovered America and more in the recent decades with the rise of the global food market but one thing remains constant – an Italian meal is a celebration of produce, not proportions of protein, carbohydrates, and fats, unlike most other Western cuisines.
With all the mushy talk about Italians and their passion for food, do you feel like putting aside your everyday life for a while and flying to Tuscany to enjoy a sumptuous meal with ample wine, while you soak in the perfectly sun-stroked views? You can do it right here by participating in the ONCE UPON A WEEK contest by RITZ magazine. Two lucky winners will get vouchers for a romantic Italian meal for 2 at Tuscana Pizzeria. Click the link below to enter the contest.
Subscribe to our Newsletter
Receive the latest recipes & kitchen tips !