A simple, delicious and healthy salad for the summer.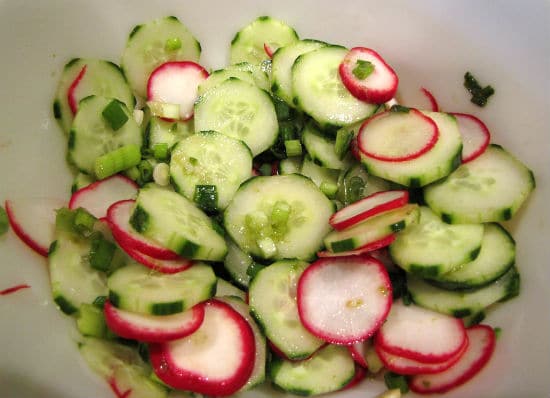 Ingredients:
Cucumber – 2, medium, chopped or sliced
Radishes – 500 gms, chopped
Red Onion – 2, medium, finely chopped or sliced
Coriander Leaves – big handful, chopped
Lemon Juice – 1/4 cup (or as per taste)
Red Capsicum – 1, small, chopped or sliced (optional)
Olive Oil – 1/4 cup
Pepper Powder – as per taste
Peanuts – 3 to 4 tblsp, toasted
Method:
1. Combine the radishes, cucumbers, coriander leaves and onions in a large bowl.
2. Mix the lemon juice and oil in another bowl.
3. Sprinkle some pepper powder and whisk well.
4. Pour this over the salad and toss to combine.
5. Garnish with peanuts.
6. Serve at once.
Tip: If desired, add some crumbled feta cheese.