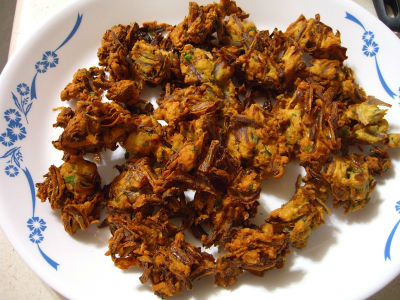 Ingredients:
Bread Slices – 6, crusts removed, crumbled
Onions – 2, finely chopped
Ginger – 1 tsp, grated
Coriander Leaves – few, chopped
Curry Leaves – few
Rice Flour – 4 tblsp
Roasted Gram Flour – 4 tblsp
Green Chilli – 1, chopped
Cashewnuts – 10, chopped
Roasted Peanuts – handful
Oil as required
Salt as per taste
Method:
1. Mix gram flour, rice flour, green chilli, ginger, coriander leaves, curry leaves, salt, cashewnuts, peanuts and onions in a bowl.
2. Add little water and mix well.
3. Ensure the mixture is slightly thick.
4. Heat oil in a frying pan over medium flame.
5. Drop small portions of the batter and deep fry until golden brown.
6. Remove and drain excess oil.
7. Serve hot as a snack.
Note: image is for illustration purposes only and not that of the actual recipe.