This grilled chicken burger is delicious and easy to make. Minced chicken breast mixed with sauces and cooked to perfection. Placed in-between a burger bun and topped with tomato, onion, lettuce and served with fries or potato wedges.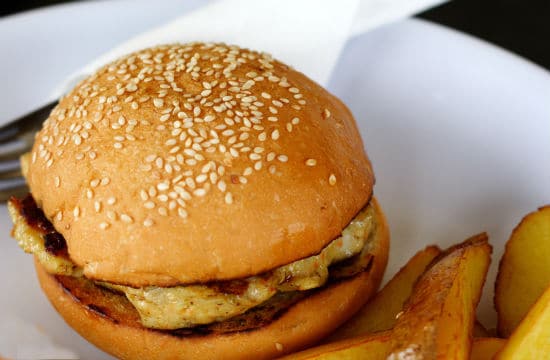 Ingredients:
Chicken Breast – 250 gms, skinless
Breadcrumbs – 1/4 cup
Spring Onion – 1, chopped
Barbecue Sauce – 3 tsp
Lemon Juice – 2 tsp
Worcestershire Sauce – 1 tsp
Garam Masala Powder – 1 tsp
Salt – a pinch
Black Pepper Powder as per taste
Oil as required
Burger Buns – 3 to 4
To Serve:
Mayonnaise
Tomato Sauce
Lettuce
Tomato Slices
Onion Slices
Jalapeno
Cheese Slices
Method:
1. Ground or mince the chicken breast.
2. Transfer to a bowl.
3. Add the spring onions, breadcrumbs, barbecue sauce, garam masala powder, lemon juice, worcestershire sauce, salt and pepper powder.
4. Mix well and shape into 3 to 4 burger patties about 1/4 inch thick.
5. Heat a nonstick grill pan over medium flame.
6. Add a little oil and cook the chicken patties for 6 to 10 minutes on each side or until the patties are no longer pink in the center.
7. Halve the burger buns and toast them lightly.
8. Spread mayonnaise on one half and tomato sauce on the other.
9. Place the cooked chicken patty on one half and top up with cheese slice, lettuce, onion slice, tomato slice and jalapeno.
10. Cover with the other half.
11. Serve at once.