A delicious and healthy South Indian breakfast dish made with wheat rava and mixed vegetables.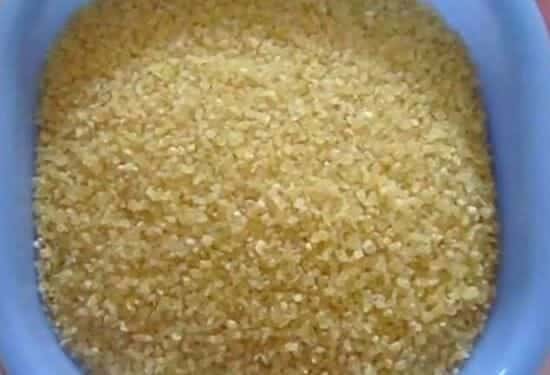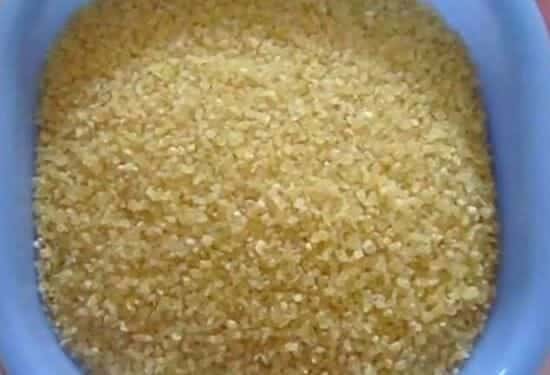 Ingredients:
Godhuma Rava (Wheat Rava) – 2 cups
Moong Dal – 1 tblsp
Mixed Vegetables – 2 cups, chopped (beans, carrot, green peas, cauliflower)
Onions – 2, finely chopped
Dry Red Chillies – 3 to 4, broken
Curry Leaves – few
Mustard Seeds – 2 tsp
Urad Dal – 3 to 4 tsp
Bengal Gram Dal – 1 tblsp
Coconut – 1, grated
Oil – 3 tsp
Ghee – 3 tsp
Method:
1. Dry roast the rava and moong dal in a pan for a minute or two.
2. Heat oil in a pan.
3. Fry the mustard seeds until it starts to splutter.
4. Add the urad dal and fry until golden.
5. Add the bengal gram dal, dry red chillies and curry leaves.
6. Stir well.
7. Add the onions and mixed vegetables.
8. Saute for a minute or two.
9. Add salt and the wheat rava mixture.
10. Add the grated coconut and stir-fry for a minute.
11. Pour 6 to 8 cups of warm water.
12. Stir well and cook over low flame.
13. After 15 to 20 minutes, when it starts to bubble, add ghee and mix well.
14. Remove from flame and serve at once.