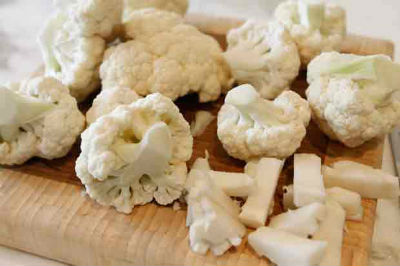 Ingredients:
Basmati Rice – 1 cup
Onions – 1/2 cup, finely sliced
Cauliflower Florets – 1 cup
Black Pepper – 1/2 tsp
Cumin Powder – 1/2 tsp
Salt – 1 tsp
Cashew Nuts – 1/4 cup
Fresh Coriander Leaves – 1/4 cup, chopped
For Tempering:
Ghee – 1 tbslp
Oil – 1 tblsp
Curry Leaves – 5
Bay Leaf – 1
Cinnamon Sticks – 3 one inch pieces
Cumin Seeds – 1 tsp
Urad Dal – 1 tsp
Method:
1. Wash rice, drain and cook it in 2-3 cups of water. Set aside to cool.
2. Put the ghee in a frying pan over medium heat.
3. Add the oil and when it is hot add the curry leaves, bay leaf and cinnamon.
4. Fry for a few seconds.
5. Sprinkle in cumin seeds and dal and fry over medium heat till cumin seeds are golden brown.
6. Add the onions and cauliflower and stir-fry for a few minutes.
7. Stir in black pepper and cumin powder and salt.
8. Cook covered over medium heat till cauliflower is tender.
9. Add 1 tblsp of water if required.
10. Gently stir in the cooked rice.
11. Cover and allow to steam-cook over low heat, till the rice becomes softer and absorbs the cauliflower flavour.
12. Add cashew nuts and coriander leaves.
13. Toss gently and serve.