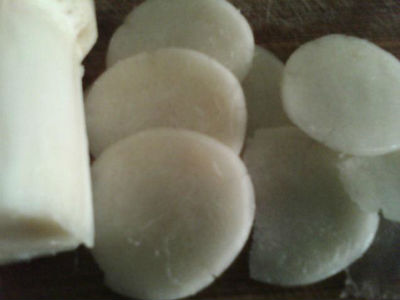 Ingredients:
Vazhaithandu (Banana Stem) – 2 medium size pieces, finely chopped
Moong Dal – 1/4 cup, cooked
Turmeric Powder – a pinch
Thick Curd – 1 tblsp
Salt as per taste
Grind together:
Coconut – 1/4 cup, grated
Cumin Seeds – 1 tsp
Curry Leaves – 1 tsp, chopped
Coriander Leaves – 1 tsp, chopped
For tempering:
Mustard Seeds – 1 tsp
Urad Dal – 1 tsp
Oil – 1 tsp
Dry Red Chillies – 2
Method:
1. Add the chopped vazhaithandu pieces to a pan and place over medium flame.
2. Add salt, turmeric powder, curd and little water.
3. Cook till it is 3/4th done.
4. Add the cooked dal and ground ingredients.
5. Simmer till it reaches a kootu consistency.
6. Heat oil for tempering and fry the tempering ingredients.
7. Add to the kootu and stir well.
8. Serve hot.