Punjab – the very mention of this rich state, brings to mind images of lush greenery, mustard fields with bright yellow flowers, butter chicken and other tandoori delicacies. The land of five rivers is extremely popular for the variety of food it boasts about. The food from this land of plenty is just like their citizens – rich, colourful, hearty, full of flavour and life! You can never fault a Punjabi on food, hard work and merriment.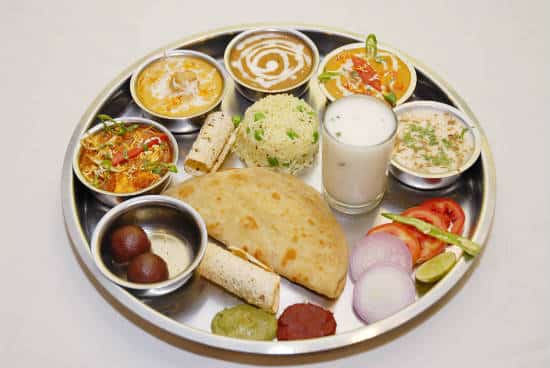 Staple food and Diet:
Punjab being an agricultural state whose staple food is wheat. You would find it in the form of parathas, romali rotis, tandoori rotis, naan, etc. Their food is very simple; the paradigm behind it being – a little of everything and no flavour overpowers the other. This is also a dairy-rich state and this is seen by the inclusion of dairy products with every meal – milk, buttermilk, paneer, Ghee, butter and Lassi. Meat and vegetables are savoured with equal enjoyment – Butter Chicken, Tandoori Chicken, Murgh Ghost are some of regions famous chicken varieties.
Rice is savoured only occasionally and during festive seasons. When prepared, it is always flavoured with vegetables, fried onions, condiments or simply just ghee and cumin seeds. Intake of plain rice is associated with ill-health
Tandoori food:
Punjab is home to authentic tandoori food that is popular world over. This method of cooking, however, did not originate from state. According to historians, the style of cooking using the Tandoor, was brought over from the Arabs and the Punjabis were the first ones to adapt it and gain expertise.
Punjabi food in Chennai:
The Dhaba style food was made popular by Punjab. Having gained good reputation across the globe, the cuisine has found its fan base even in Chennai. Many restaurants in Chennai try to bring in the essence of Dhaba food in their offerings.
Here's a look at some of the popular joints that serve delicious Punjabi food in Chennai:
Sachin Ka Dhabba – OMR, Nungambakkam, Anna Nagar
Rajdhani Punjabi Dhaba – Thousand Lights, Royapettah
Just Parathas – Olympia Tech Park, Guidy
Mast Kalandar – Adyar
Copper Chimney – Cathedral Road, Taramani
Dhabba Express – Nungambakkam
The Dhaba – Mylapore
Bombay Halwa House – Kilpauk, Mylapore
NH1 – Haddows Road
Asli Punjabi Rasoi – Egmore
image via