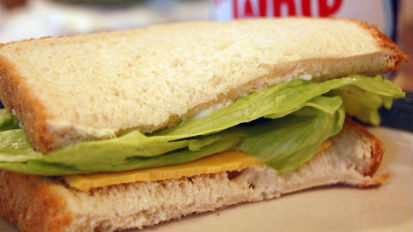 Ingredients:
Bread Slices – 4
Cheese Spread or Butter
Lettuce Leaves
Cheese Slices
Pepper
Oregano
Method:
1. Spread the cheese spread or butter on the bread slices.
2. Place the lettuce on one slice.
3. Add cheese slice on top.
4. Sprinkle pepper powder and oregano.
5. Cover with the other slice.
6. Press down and cut into a triangle.
7. Serve with ketchup.
Tip:
1. You can add slices of tomato, cucumber and onion as well if desired .
2. You can also grill the sandwich.
image credit: eatathomecooks.com