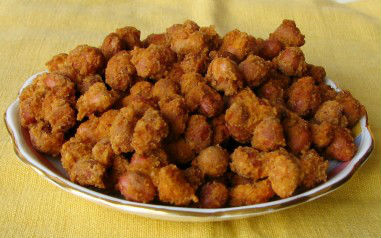 Ingredients:
Peanuts – 1 cup
Red Chilli Powder – 1 tsp
Oil – 1 to 2 tsp
Asafoetida Powder – a pinch
Gram Flour (Besan) – 2 tsp
Rice Flour – 1 tsp
Salt as per taste
Method:
1. Transfer the peanuts to a bowl and sprinkle a handful of water.
2. Mix well and drain.
3. Add all the ingredients to the bowl and mix well.
4. Transfer to a microwave safe bowl and keep it in the microwave for 2 minutes.
5. Stir to mix well and serve.
Tip: You can also sprinkle 1 tsp of lemon juice if desired (optional).
If you do not have a microwave, fry the peanuts in hot oil. Drain excess oil and serve.