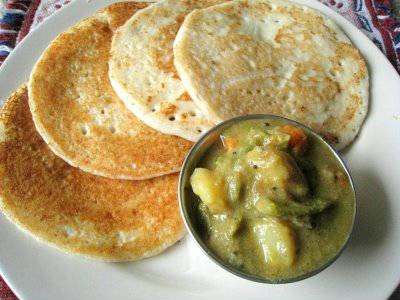 Ingredients:
Rice – 2 cups
Aval (Poha) – 3/4 cup
Urad Dal – 1 tblsp
Fenugreek Seeds – 2 tsp
Curd – 2 cups, whisked
Oil as required
Salt as per taste
Method:
1. Wash the rice, poha, dal and fenugreek in water and soak them for 1 to 2 hours with the curd.
2. Grind to a smooth batter and mix well with salt.
3. Heat a tawa over medium flame.
4. Pour a ladleful of the batter and spread to make a thick dosa.
5. Apply oil around the edges and cover with a lid.
6. Remove when light golden.
7. Serve 2 dosas per plate with kurma or chutney.
Note: This dosa should be thicker than the regular dosa.
image credit: konkanworld.blogspot.com