A crispy South Indian deep fried snack often made during Festivals and served as a small bite.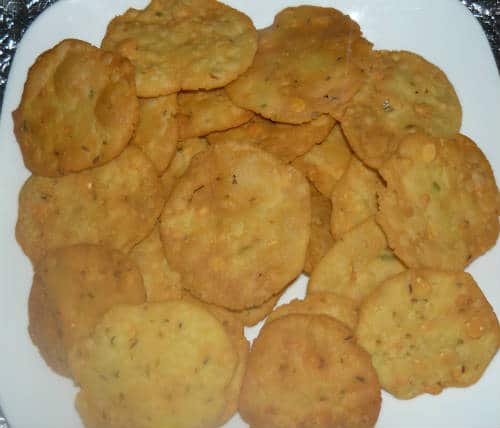 Ingredients:
Coriander Leaves – 1 tblsp, finely chopped
Mint Leaves – 1 tblsp, finely chopped
Ajwain (Omam) – 1/4 tsp
Cumin Seeds – 1/2 tsp
Water – 2 cups
Peppercorns – as required, crushed
Maida – 2 cups
Rava – 1/4 cup
Salt as per taste
Ghee – 1/2 cup
Oil for frying
Method:
1. Heat water in a pan over medium flame.
2. Add mint leaves, coriander leaves, ajwain, cumin seeds and peppercorns.
3. Bring to a boil and simmer until reduced to 1/2 to 3/4 cup.
4. Remove from flame.
5. Strain well.
6. Add maida, rava, ghee and salt into a large bowl.
7. Add the strained water as required and mix well to a puri dough consistency.
8. Keep aside for 10 minutes and knead well.
9. Make small balls and roll them into small, thick discs.
10. Prick both sides using a fork and place them on a clean, dry white (muslin) cloth.
11. Set aside until all moisture has evaporated.
12. Heat oil in a deep frying pan.
13. Gently add the discs to the hot oil and fry until golden brown on both sides.
14. Remove and drain excess oil.
15. Store in an airtight container.
16. Stays good for a week.
Tip: If you need to add more water at step #7, add only the strained water and do not add plain water.