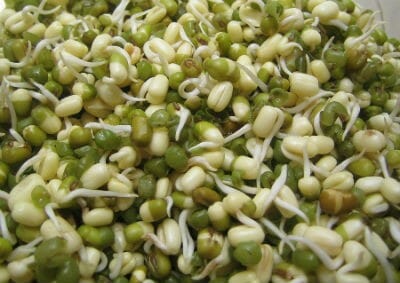 Ingredients:
Basmati Rice – 2 cups
Sprouted Green Gram – 1 cup
Ginger Garlic Paste – 1 tblsp
Cabbage – 1/3 cup, finely sliced
Capsicum – 1/3 cup, finely chopped
Spring Onions – 1/3 cup, finely chopped
Soya Sauce – 1 tblsp
Coriander Leaves – 3 tblsp, finely chopped
Oil – 3 tblsp (or as required)
Salt as per taste
Method:
1. Soak the basmati rice for 15 minutes.
2. Drain well.
3. Add little salt and pour 3 1/2 cups of water.
4. Pressure cook until done. The grains must not be sticky and should be separated.
5. Heat oil in a pan.
6. Saute the cabbage, capsicum and spring onions for a minute.
7. Add the green gram and gently mix well.
8. Add ginger garlic paste, salt, soya sauce and stir.
9. Add the cooked rice and mix until well combined.
10. Garnish with coriander leaves.
11. Serve hot.
12. Rich in protein, this biryani is simple and easy to make.
Subscribe to our Newsletter
Receive the latest recipes & kitchen tips !