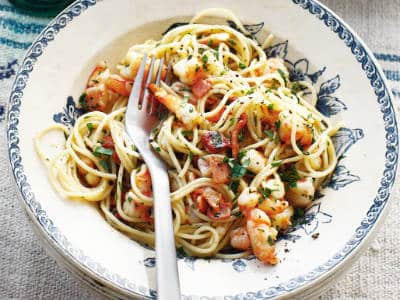 Ingredients:
Pasta – 150 gms, cooked as per packet instructions, reserve 1/4 cup of water
Prawns – 200 gms, peeled
Olive Oil – 1 tblsp
Red Chillies – 2, finely sliced
Garlic – 2 cloves, finely sliced
Broccoli Florets – 1/4 cup, chopped
Spring Onions – 1/4 cup, chopped
Black Pepper Powder as per taste
Method:
1. Heat oil in a pan over medium flame.
2. Fry the garlic and red chillies for a minute or two.
3. Add the broccolis and spring onions.
4. Cook for a minute.
5. Add the prawns and cook for 2 minutes or until cooked.
6. Add the pasta and pour 1/4 cup of the reserved water.
7. Mix well and remove after a minute.
8. Season with pepper powder.
9. Serve.
photo via taste.com.au
Subscribe to our Newsletter
Receive the latest recipes & kitchen tips !