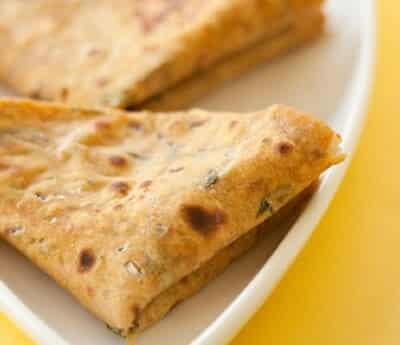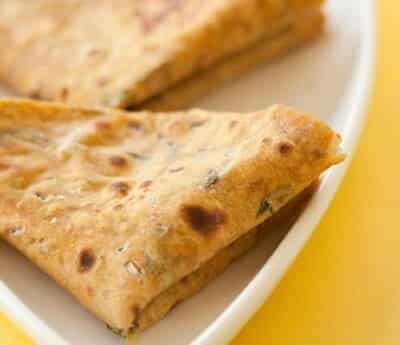 Ingredients:
Bajra (Kambu) Flour – 1 cup
Methi (Fenugreek) Leaves – 1/2 cup
Wheat Flour – 1/4 cup
Cumin Seeds – 1/4 tsp
Ajwain – 1/4 tsp
Red Chilli Powder – 1 tsp
Curd – 2 tsp
Oil as required
Butter as required
Salt as per taste
Method:
1. Mix the bajra flour, wheat flour, cumin seeds, ajwain, red chilli powder, curd and methi leaves in a bowl.
2. Add enough water. Knead well until soft and pliable.
3. Keep aside for 60 minutes.
4. Make small balls of the dough and roll them out into rotis.
5. Heat a tawa over medium flame.
6. Cook the prepared rotis on both sides adding oil around the edges.
7. Add a small dollop of butter on top and spread evenly.
8. Serve with sidedish of choice.