Simple and easy to make. Makes a perfect teatime biscuit.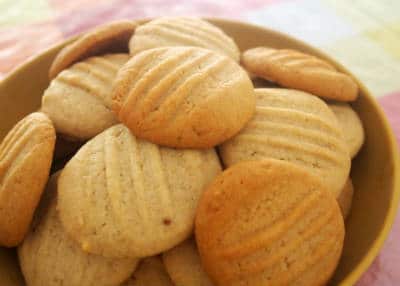 Ingredients:
Butter – 200 gms, unsalted, soft + extra for greasing
Light Brown Sugar – 200 gms, soft
Flour – 1 1/2 cups
Golden Syrup – 1/4 cup
Mixed Nuts (cashews, almonds, walnuts or pistachios) – 50 gms
Method:
1. Mix the sugar, syrup and butter in a bowl until smooth.
2. Add the flour and mix well.
3. Add the mixed nuts and mix again.
4. Shape the mixture into small balls and place them on a greased baking sheet. Flatten them lightly.
5. Place the tray in a preheated oven at 160C.
6. Bake for 12 to 20 minutes or until golden.
7. Remove and cool.
8. Store in an airtight container.
9. Stays good for a few days.