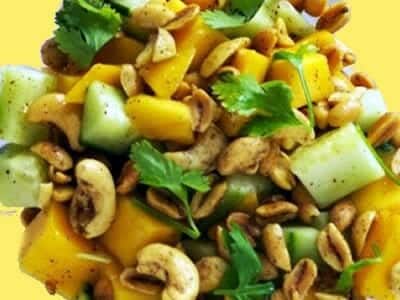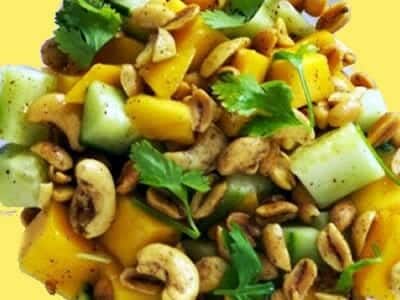 Ingredients:
Mango – 1, peeled, diced
Onions – 1/4 cup, finely sliced
Capsicum – 2 tblsp, finely sliced
Cashewnuts – 2 to 3 tblsp (adjust as required)
Coriander Leaves – handful, chopped
Lime Juice – 2 tsp
Red Chilli Flakes as per taste
Method:
1. Combine the mangoes, onions, capsicums and cashewnuts in a bowl.
2. Add coriander leaves and lime juice.
3. Mix well.
4. Sprinkle red chilli flakes and toss.
5. Transfer to individual serving cups.
6. Serve at once.
Note: If desired add green apple, avocado or cucumbers.
Image via detoxyourworld.com