Flaxseed, or linseed, has been a constant agricultural and industrial companion for thousands of years. Only recently, however, has this vital natural resource been rediscovered as a huge benefit to our health.
The Long History of Linseed
For centuries, this wonder plant was used to make spun yarn for clothing and fine linens. Some of the oldest textile fossils in the world were made of flax fibers that are believed to have been dyed around 30,000 years ago.
In the 1800s, the oil extracted from the seeds, which had long served as a painter's medium and wood finish, was used to create the first linoleum flooring. Recent research about the health benefits associated with this same oil bode extremely well for those searching for natural dietary supplements.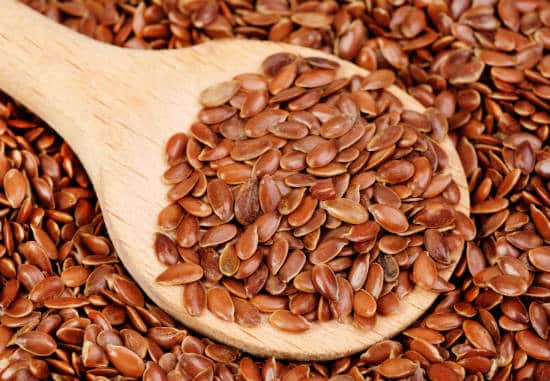 Flaxseed Composition
Flax seeds contain a number of beneficial components that make them extremely healthy. Here are some of the most notable:
Lignans
These important antioxidant phytoestrogens play important roles in neutralizing the free radicals present in our bodies. As compared with other foods, flax seeds contain more lignan precursors than any other dietary substance, weighing in at about 85.5 mg lignans per ounce. The next highest source of lignans — sesame seeds — contain only 11.2 mg lignan precursors per ounce. Such precursors are the chemical materials that mammalian bodies require to make their own lignans.
Some research suggests that lignans help reduce the risk of endometrial, prostate and ovarian cancers. Other studies have noted potentially positive associations between lignan intake and the reduced risk of osteoporosis. High-lignan diets have consistently been shown to reduce the risk of cardiovascular diseases. A link between the lignans found in flax and lower breast cancer risk is still being explored.
Omega-3 Essential Fatty Acids
These polyunsaturated fatty acids are essential to sustained, healthy metabolism. Like many amino acids, however, the human body can't produce a number of omega-3s. Research has shown that the elderly are even less likely to synthesize the few omega-3 acids that mammals can produce; such deficiencies may play a role in the development of cognitive diseases, such as dementia and Alzheimer's [3].
Omega-3 fatty acids, like those found in flaxseed, play vital roles in human health, brain function and early development. DHA, for instance, is one of the primary structural building blocks of brain tissue, while ALA has been found to contribute to reduced tumor occurrence and propagation. A Harvard University study conducted with 50,000 women even noted that, over 10 years, those who consumed heightened amounts of ALA may have had lower risks of clinical depression [4].
While fish are common sources of omega-3s, these foods are unsuitable for vegetarians and vegans. Furthermore, not all fish contain the same levels of fatty acids, and flaxseed is often easier for people to digest because of its heightened dietary fiber content. Flaxseed also bears the benefit of being markedly cheaper for most consumers to incorporate into their diets on a consistent basis.
Dietary Fiber
Flaxseed is a vital source of essential dietary fiber. Such fiber comes in two forms: (1) soluble, which can be dissolved in water and metabolized in the colon via fermentation, and (2) insoluble, which doesn't dissolve yet makes it easier to pass waste. Proper dietary fiber consumption can improve the way your body absorbs other nutrients and potentially reduce the incidence of gastrointestinal diseases caused by impaction or constipation.
Flax seeds contain a large quantity of soluble and insoluble fibers alike. This makes them a good complement to diets that don't include sufficient fiber, especially since they can be added to other foods with relative ease.
Some studies suggest that dietary fiber affects the way humans metabolize cholesterol. By lowering total and LDL cholesterol levels, soluble fiber can reduce the risk of heart disease, and it also slows the rate of glucose absorption, which can help improve blood sugar fluctuations. Insoluble fiber may also play other important roles in blood sugar regulation.
Flaxseed vs. Other Foods
While many foods contain similar nutrients, flaxseed is notable because it includes nutrients in unusually high concentrations. The increased presence of omega-3s in flaxseed, for instance, makes them a key ingredient in the chicken feed used to produce high-omega-3 eggs. Of course, there are also other benefits of adding flax to your diet.
Ease of Consumption
One of the biggest factors in flaxseed's association with better health is its easy use. Flax seeds are commonly crushed and added to flour or other ingredient mixes, but they're also consumed raw. Many people toast them and sprinkle them on salads, rice and other dishes as a healthy garnish.
Variety of Form
Unlike some plant substances, flax seeds can be processed into a number of forms that increase their storage life without the introduction of harmful additives. For instance, flax is often sold as cold-pressed linseed oil, although this product has a limited shelf life.
Potentially Unexplored Benefits
The advantages of flax consumption are only beginning to be understood. In its natural seed form, flax is also a source of protein, unsaturated fats and vital minerals. For those who want to boost their dietary health, these little seeds are a great way to get started.
About the author:
Chris Bekermeier is Vice President, Sales & Marketing, for PacMoore (http://www.pacmoore.com/), in Hammond, IN. PacMoore is one of the leading certified organic food manufacturers that specialize in processing dry ingredients for the food industry. Its capabilities include blending, spray drying, re-packaging, sifting, and consumer packaging.
Sources:
[3] Gao, F., Taha, A. Y., Ma, K., Chang, L., Kiesewetter, D., Rapoport, S. I. (2012). "Aging decreases rate of docosahexaenoic acid synthesis-secretion from circulating unesterified α-linolenic acid by rat liver." AGE. doi:10.1007/s11357-012-9390-1. PMID 22388930
[4] M. Lucas, F. Mirzaei, E. J. O'Reilly, A. Pan, W. C. Willett, I. Kawachi, K. Koenen, and A. Ascherio (2011). "Dietary intake of n-3 and n-6 fatty acids and the risk of clinical depression in women: a 10-y prospective follow-up study". Am J Clin Nutr 93 (6): 1337–43. doi:10.3945/ajcn.111.011817. PMC 3095504. PMID 21471279
Subscribe to our Newsletter
Receive the latest recipes & kitchen tips !