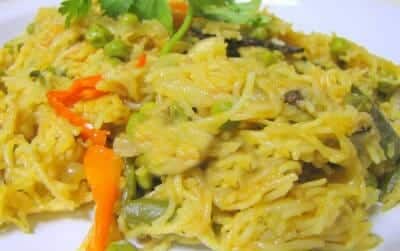 Ingredients:
Ragi Vermicelli – 200 gms (available in major stores)
Carrot – 1/4 cup, chopped
Beans – 1/4 cup, chopped
Cabbage – 1/4 cup, chopped
Green Peas – 1/4 cup
Garam Masala Powder – 1 tsp
Onion – 1
Tomato – 1
Mint Leaves – few
Coriander Leaves – few
Ginger – 1/2 tsp, grated
Mustard Seeds – 1/4 tsp
Urad Dal – 1/4 tsp
Salt as per taste
Oil as required
Method:
1. Soak the vermicelli in a pan of water until fully immersed with a little salt for a minute.
2. Drain and steam cook for 2 minutes.
3. Heat oil in a pan over medium flame.
4. Fry the mustard seeds and urad dal for 30 seconds.
5. Add the vegetables, ginger, mint, garam masala powder, salt and little water.
6. Cook for 2 minutes or until the vegetables are cooked and tender.
7. Add the vermicelli and mix well.
8. After a minute, garnish with coriander leaves.
9. Serve.
Note: If you are not able to find Ragi Vermicelli, use plain vermicelli.
image via kitchen secrets and snippets
Subscribe to our Newsletter
Receive the latest recipes & kitchen tips !