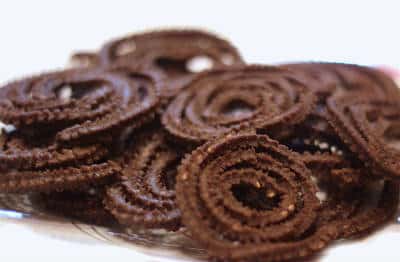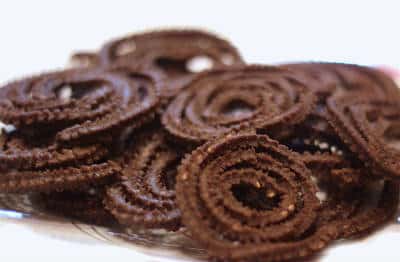 Ingredients:
Ragi Flour – 2 cups
Rice Flour – 2 cups
Roasted Urad Flour – 1/4 cup
Roasted Gram Flour – 1 tblsp
Butter – 2 tblsp
Red Chilli Powder – 1/2 tsp
Asafoetida Powder – lilttle
Salt – 2 tsp
White Sesame Seeds – 2 tsp
Oil as required
Method:
1. In a large bowl mix the ragi flour, rice flour, urad flour, gram flour, butter, salt, asafoetida powder, red chilli powder and sesame seeds.
2. Gradually add enough water and mix well to a chapati dough consistency.
3. Heat oil in a deep frying pan.
4. Add the dough to a murukku maker and press over hot oil.
5. Fry till light golden brown and remove.
6. Drain excess oil.
7. Store in an airtight container.