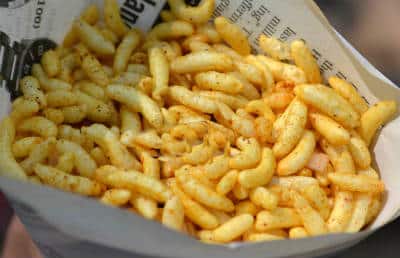 Ingredients:
Pori (Puffed Rice) – 1 cup
Coriander Leaves – 1/2 cup, chopped
Mint Leaves – 1/4 cup, chopped
Curry Leaves – little, chopped
Onions – 2, finely chopped
Raw Mango – 2 tblsp, finely chopped
Chaat Masala Powder – 1 tsp
Red Chilli Powder – a pinch
Juice of 1/2 Lemon
Salt – little
Sev – to garnish
Method:
1. Combine the pori, coriander leaves, mint leaves, curry leaves, mango and onions in a bowl.
2. Add salt, chaat masala powder, red chilli powder and stir to mix well.
3. Add lemon juice and mix well.
4. Garnish with sev and serve at once.
Tip: You can also add fried cornflakes and roasted peanuts if desired.