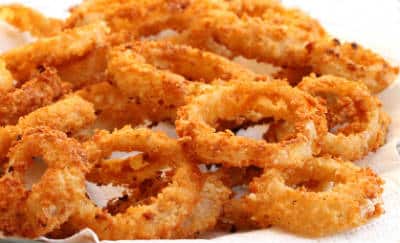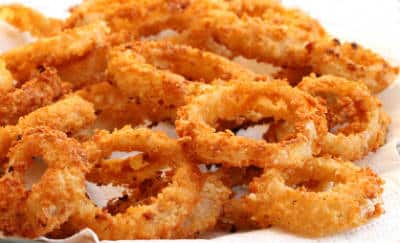 Ingredients:
Onions – 2, sliced thinly
Maida (Plain Flour) – 1/2 cup + little extra
Corn Flour – 2 tblsp
Baking Powder – 1/2 tsp
Salt as per taste
Coconut Milk – 1/2 cup
Coconut – 1 cup, shredded
Water – 1/3 cup
Red Chilli Powder – 1/2 tsp (optional)
Oil for frying
Method:
1. Mix the maida, cornflour, baking powder and salt in a bowl.
2. Gradually add the coconut milk and water.
3. Mix well until a smooth batter is formed.
4. Heat oil in a frying pan over medium flame.
5. Sprinkle some maida on the onions and shake off the excess.
6. Dip in the batter and roll them in the shredded coconut.
7. Add to the hot oil and cook for 2 minutes or until golden.
8. Remove and drain excess oil.
9. Serve with ketchup or mint chutney.