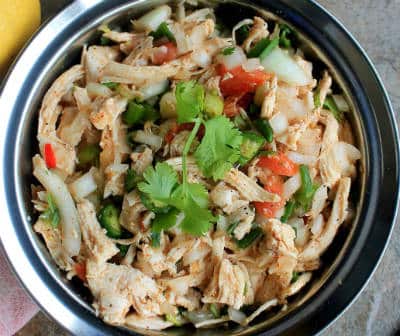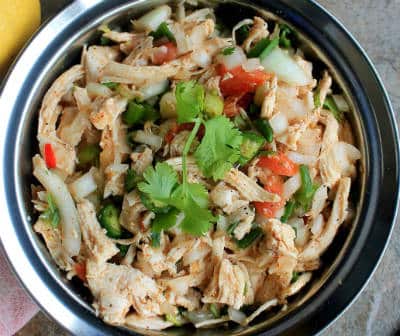 Ingredients:
Chicken Breasts – 2, cooked, shredded
Cabbage – 300 gms, finely sliced
Tomato – 1, finely chopped (optional)
Carrot – 200 gms, finely sliced
Mint Leaves – 1 cup, finely sliced
Lemongrass – 3 to 4 stalks, finely minced
Peanuts – 1/4 cup, chopped, roasted
Coriander Leaves – handful, chopped
For the dressing:
Fish Sauce – 5 to 6 tblsp
Sugar – 1/4 cup
Red Chilli – 4, finely minced
Lime Juice – 1/4 cup
Method:
1. Combine all the dressing ingredients in a bowl and mix well.
2. Mix the chicken, cabbage, carrot, lemongrass, tomatoes and mint leaves in a bowl.
3. Toss well.
4. Add the dressing and gently stir until evenly combined.
5. Garnish with the coriander leaves and peanuts.
6. Serve at once.