A traditional South Indian papad served as a snack or as a side dish to meals.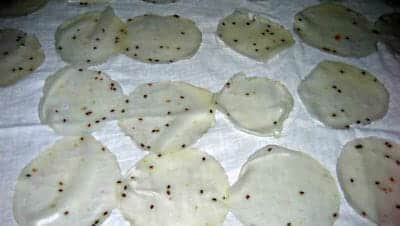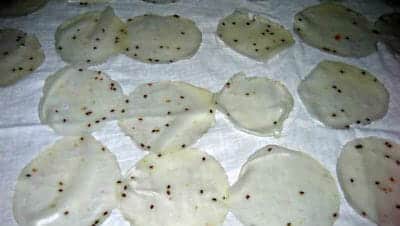 Ingredients:
Idli Rice – 1 cup
Black Peppercorns – 1 tsp, coarsely pounded
Cumin Seeds – 1 tsp
Salt as per taste
Method:
1. Wash the rice and soak for 2 hours.
2. Drain well and grind to a smooth batter adding water if required.
3. Keep aside for 3 to 5 hours.
4. Add enough water, salt, peppercorns and cumin seeds.
5. Mix well.
6. Pour a ladleful of the batter onto a clean, banana leaf and steam cook till done.
7. Peel and eat at once or keep them on a clean white cloth to dry.
8. Fry in hot oil or roast over direct flame.
9. Serve.