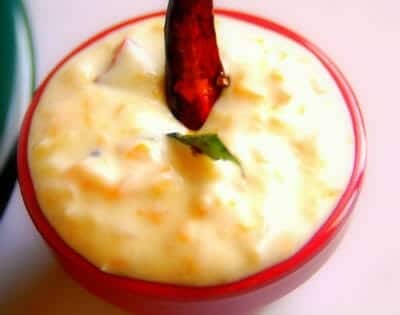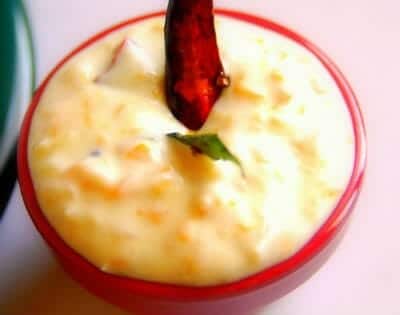 Ingredients:
Yellow Pumpkin – 1 cup, peeled, chopped
Mango – 1/4 cup, peeled, chopped
Coconut – 1 tblsp, grated
Cumin Seeds – 1/2 tsp
Mustard Seeds – little
Dry Red Chillies – 2
Jaggery – little
Salt as per taste
For tempering:
Mustard Seeds – 1 tsp
Urad Dal – 2 tsp
Dry Red Chillies – 2
Curry Leaves – little
Oil as required
Method:
1. Grind the grated coconut, mustard seeds, cumin seeds and dry red chillies to a fine paste.
2. Boil the pumpkin and mango pieces in little water.
3. Add salt and ground coconut paste.
4. Add jaggery and bring to a boil.
5. Fry the tempering ingredients in oil and add to the pachadi.
6. Stir well.
7. Serve hot.