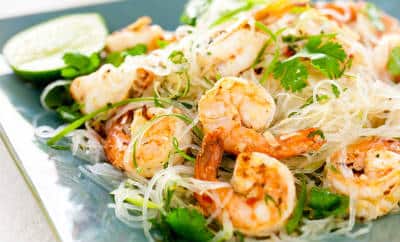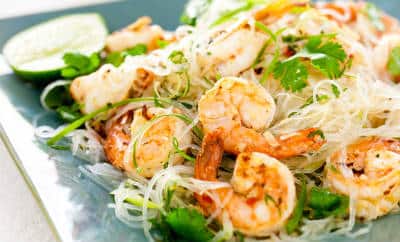 Ingredients:
Prawns – 300 gms, boiled
Rice Noodles – 200 gms, cooked as per packet instructions
Carrot – 2, large, julienned
Spring Onions – 3 to 4, finely sliced
Coriander Leaves – handful, chopped
Mint Leaves – handful, chopped
For the dressing:
Soy Sauce – 3 1/2 tblsp
Fish Sauce – 1 1/2 tblsp
Light Brown Sugar – 3 1/2 tblsp
Juice of 2 large limes
Zest of 1 large lime
Method:
1. Whisk together all the dressing ingredients in a bowl and keep aside until required.
2. In a large bowl, combine the prawns, noodles, carrot, spring onions, coriander leaves and mint leaves.
3. Toss well to combine.
4. Drizzle the dressing on top and toss well.
5. Serve at once.