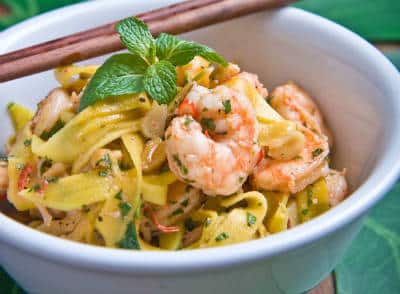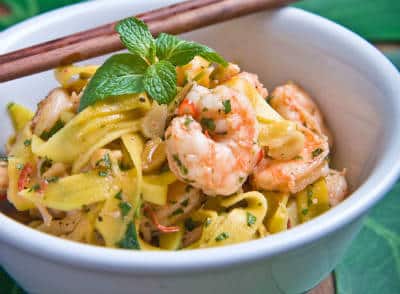 Ingredients:
Prawns – 10, cooked, peeled, deveined
Green Mango – 1, peeled, finely sliced
Cucumber – 1, small, finely sliced, seeds removed
Cherry Tomatoes – 125 gms, halved
Onion – 1/2, finely sliced
Coriander Leaves – 1/4 cup
Mint Leaves – 1/4 cup
Basil Leaves – 1/4 cup
For the dressing:
Garlic – 2 cloves, finely chopped
Coriander Roots – 2, finely chopped
Palm Sugar – 1 tblsp
Thai Fish Sauce – 1 tblsp
Red Chilli – 1, small, finely chopped
Juice of 1 Lime
Method:
1. Mix all the dressing ingredients in a bowl and whisk well.
2. Add the prawns, mango and cucumber to a large serving bowl.
3. Add the onions, tomatoes and toss well.
4. Add the mint, basil and coriander leaves.
5. Pour the dressing over and toss again until evenly combined.
6. Serve at once.