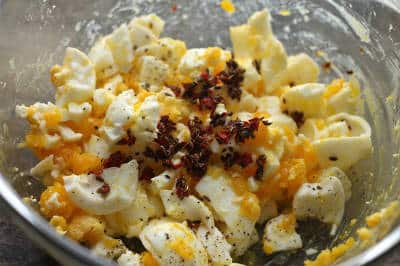 Ingredients:
Eggs – 2, hard-boiled, quartered
Carrot – 1, peeled, sliced
Fennel Heads – 2, sliced
Extra-Virgin Olive Oil – little
Basil Leaves – handful
Lemon Juice – 1 to 2 tsp
Spring Onions – handful, chopped
Method:
1. Combine the basil leaves, olive oil and lemon juice in a bowl.
2. Transfer to a mixer and blend well.
3. Arrange the eggs, carrot and fennel in a bowl.
4. Drizzle the basil dressing on top.
5. Garnish with spring onions.
6. Serve.
Note: image is for illustration purposes only and not that of the actual recipe.
The image is that of Chili and Fennel Egg Salad
Subscribe to our Newsletter
Receive the latest recipes & kitchen tips !