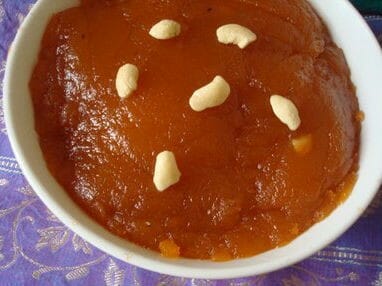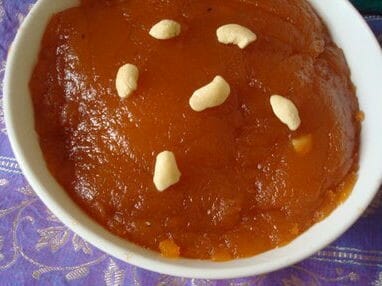 Ingredients:
Karunai Kizhangu (Elephant Yam) – 250 gms, peeled, grated
Sugar – 150 gms
Ghee – 50 gms
Milk – 1/2 cup
Cardamom Powder – a pinch
Cashewnuts – 6, fried in ghee
Halwa Powder – a pinch (available in most major stores)
Method:
1. Heat ghee in a pan over medium flame.
2. Add the grated yam and saute till the raw smell disappears.
3. Separately heat milk in another pan.
4. Add the yam, sugar and mix well.
5. Add cardamom powder and halwa powder.
6. Stir well till it reaches a halwa consistency. Remove and transfer to a bowl.
7. Garnish with fried cashewnuts.
8. Serve.
Note: image is for illustration purposes only and not that of the actual recipe.