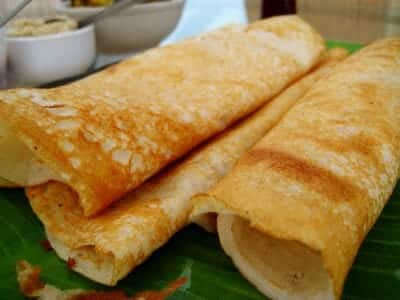 Ingredients:
Parboiled Rice – 1 1/2 cups
Dry Red Chillies – 2
Vendakkai (Okra/Bhindi) – 100 gms, chopped
Oil as required
Salt as per taste
Coriander Leaves – few, chopped
For tempering:
Mustard Seeds – 1 tsp
Cumin Seeds – 1 tsp
Method:
1. Soak the rice for an hour.
2. Then combine it with salt, dry red chillies and add to a grinder.
3. When the rice is half ground, add the chopped bhindis.
4. Grind to a smooth batter.
5. Keep the batter aside for 2 to 3 hours or overnight.
6. Heat little oil in a pan.
7. Fry the tempering ingredients and add to the batter.
8. Heat a nonstick tawa over medium flame.
9. Pour a ladleful of the batter and spread evenly.
10. Add oil to the edges and cook till light golden brown. Flip it over, sprinkle little coriander leaves and cook for a minute more.
11. Remove and serve hot with chutney of choice.